March Insights by Cinelytic: Amazon and Paramount's $125m Bet Pays Off
Cinelytic provides critical insights into the economics of a traditional theatrical vs. direct to OTT release by using our OTT demand data and our AI-driven content intelligence platform. We utilized the platform to establish what value COMING 2 AMERICA has to different sectors of the film business and as well as what that says about the current state of the film industry.
Paramount's Pay Off:
We ran COMING 2 AMERICA on our AI-driven platform as a classic theatrical release in a post-Covid environment. By taking into account key project variables including budget, genre, key talent, release strategy and IP value, the system predicted global net revenues of US$106m in the median revenue forecast – the outcome with the highest probability. See our forecast summary below: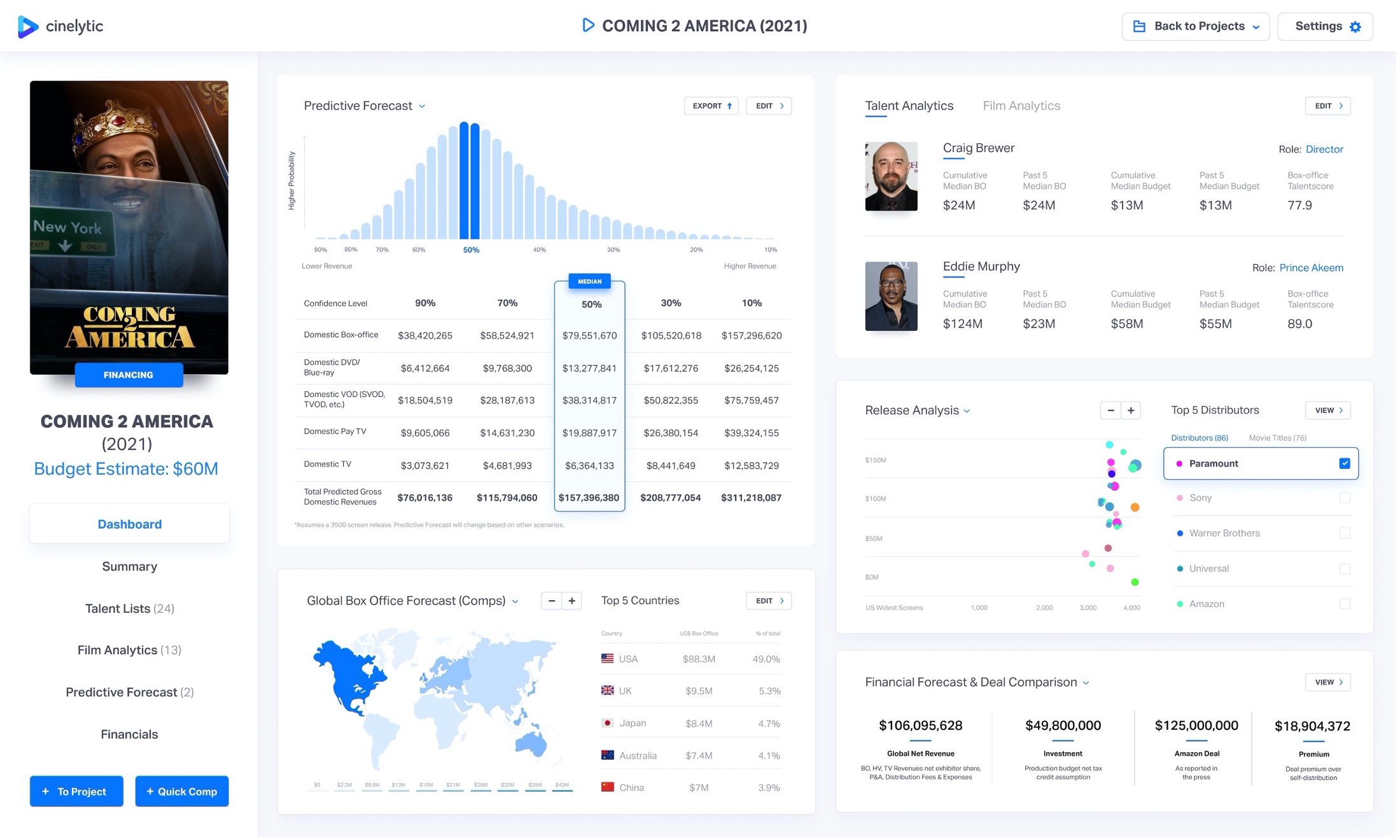 Global net revenues are defined as global theatrical (3,500 theatres in the US), home video and TV revenues net of exhibitor shares, P&A, distribution and marketing expenses. These net revenues are comparable to what Paramount would receive when selling the worldwide rights to a film. We use the median as our base case but if the title were to catch on with audiences, the revenue figures can increase as shown in our probability weighted Predictive Forecast scenarios. Overall, Cinelytic's median forecast is 85%+ accurate.
The forecast analysis clearly illustrates that the value of COMING 2 AMERICA to a traditional studio is US$106m.
The US$125m that Amazon reportedly paid for the title in October 2020 handed Paramount a US$19m premium to our global net revenues forecast of US$106m. With the studio's net investment of US$50m, the deal further increased the studios profits from the film during a pandemic year that saw theatrical revenues drop 75%. Pocketing all film profits at a time when most theatres were closed with not clear path to reopening seems to make very good sense from Paramount's perspective.
Amazon's Gamble:
Streaming platform competition is heating up. With Netflix being the industry leader and Disney+ going strong, further competitors such as Apple+, HBOMax and Hulu are all increasing investments into exclusive content to compete for audiences. Under these circumstances Amazon was looking for strong tittles that can drive audiences, brand image while being a creative fit.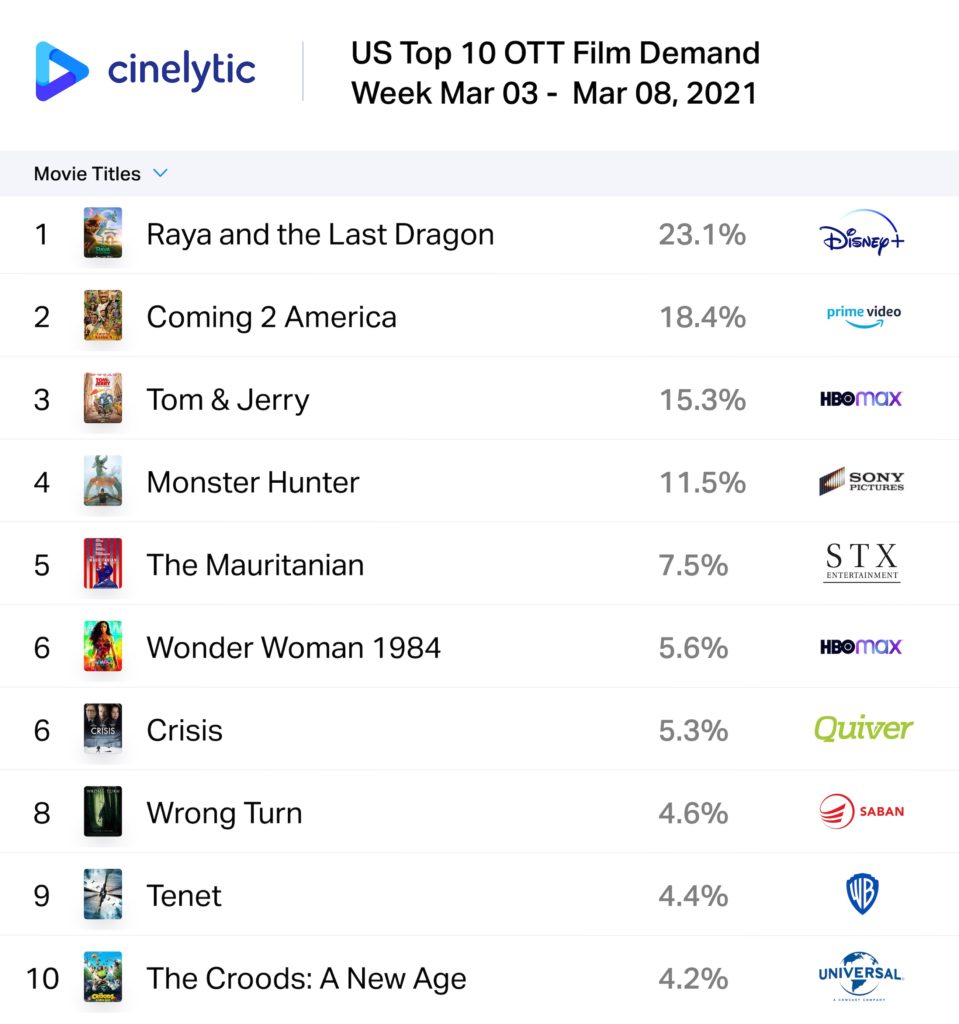 COMING 2 AMERICA seems to fit that profile from first glance as the prequel is a much loved classic all over the world. The title was released on Amazon Prime on March 5 2021 – we took a deep dive on its performance to understand whether the acquisition paid off. Cinelytic's exclusive OTT data tracks 100 million global transaction daily to assess content demand for titles across all streaming platforms.
As a first step, we ran our OTT data for the domestic opening week to understand how the title performed with US audiences.
COMING 2 AMERICA had to compete with Disney's RAYA AND THE LAST DRAGON another highly anticipated title at the beginning of March. Disney+'s title came out on top but COMING 2 AMERICA was a strong second with 18.4% Top 10 market share.
As a second step, we analyzed how COMING 2 AMERICA performed in comparison to the first seven release days of relevant comps including Amazon's BORAT, Apple+'s GREYHOUND, MGM's BILL AND TED and HBOMax's TOM & JERRY. In order to track and compare like for like performance in the cleanest way, we measured the daily market share per title / per territory for the initial seven days of release. Market share for any listed title represents the transactions that the title generated on a specific day against the total number of transactions for the day for all daily film transactions in that territory. This way we are able to establish overall strength/popularity of a title at launch and track how well demand keeps up during the first days of release.
Looking at the Chart below, COMING 2 AMERICA came out on top of its peers with 15.3% overall market share on Day 1 and a strong 8.3% market share on Day 7. Based on our data COMING 2 AMERICA became Amazon Prime's strongest release to date.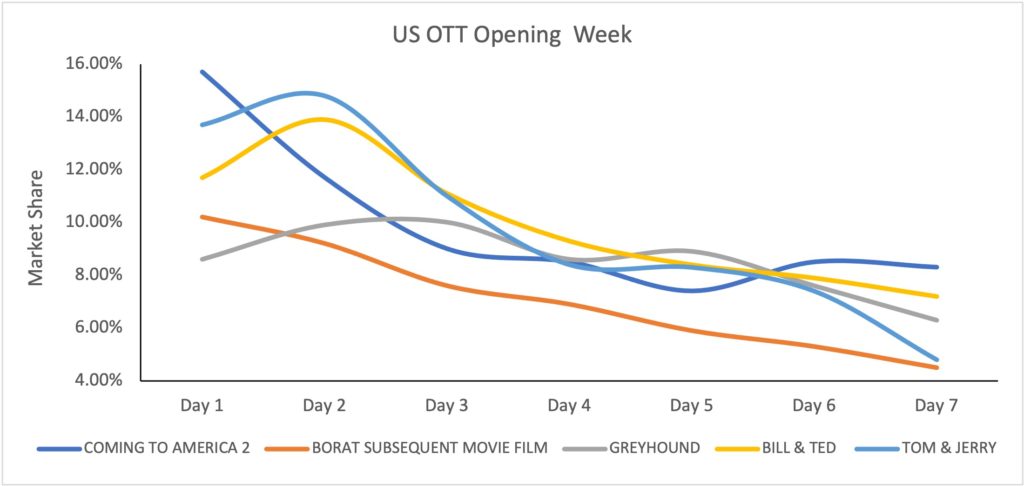 Conclusion:
Putting the various pieces together provides a more complete picture and understanding as to why Amazon Prime's acquisition of COMING 2 AMERICA made sense for Paramount as well as Amazon during 2020. There is a real benefit to a studio to refinance/monetize a title like COMING 2 AMERICA during a year when theatres are closed. On the same note, streamers like Amazon Prime benefit from studio level content that would normally be difficult to acquire for one exclusive window.
Viacom with its release of Paramount+ earlier this year appears to focus on releasing feature films 30-45 days after the theatrical release. Understanding this new approach, it appears that COMING 2 AMERICA sale may have been a one off as we move further into 2021.
With our OTT demand data and AI-driven intelligence platform, Cinelytic is here to support this type of critical thinking and out of the box decision making. Click here to learn more about our OTT data tracking tool.
Get in touch today to learn how Cinelytic can future proof your decisions.