As we've alluded to throughout this year, we've been reviewing the box office projections that Cinelytic published back in September of 2022 for the film industry's entire 2023 theatrical slate. The graphic below showcases updated figures proving that we have maintained our accuracy in relation to our domestic box office projections, currently tracking at around 92% through the month of October: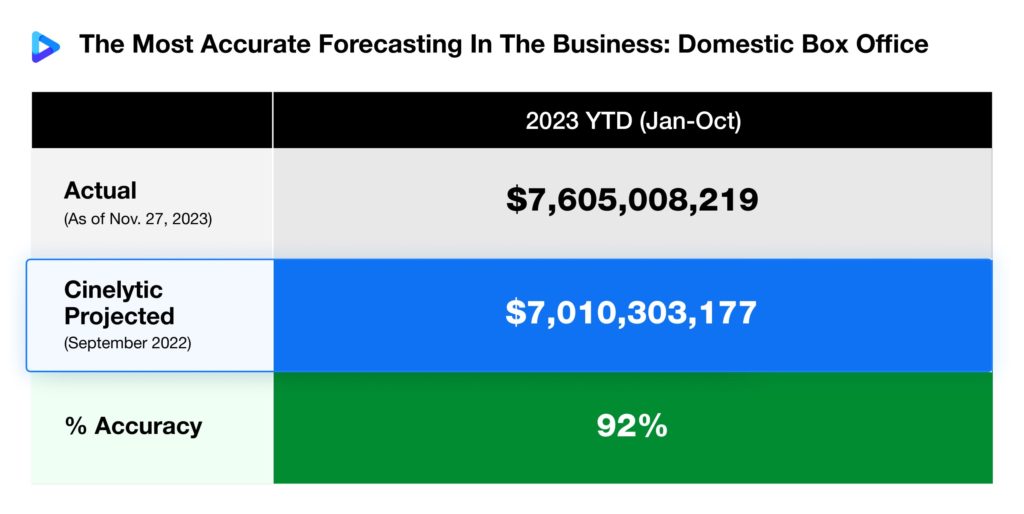 It's no secret that forecasting film revenue has likely never been more difficult. Several tentpole releases from major studios this year have vastly underperformed industry estimates, whether it be Walt Disney Studios' INDIANA JONES AND THE DIAL OF DESTINY or THE MARVELS, Warner Bros. Pictures' THE FLASH, Paramount Pictures' MISSION IMPOSSIBLE – DEAD RECKONING PART ONE or Universal Pictures' FAST X. At the same time, some major studios had other comparably high-profile releases that either met or completely blew past expectations. Examples of the latter include BARBIE, OPPNEHEIMER, THE SUPER MARIO BROS. MOVIE and SPIDER-MAN: ACROSS THE SPIDER-VERSE.
While correctly projecting blockbuster or franchise film revenue has never necessarily been easy, it's likely always been easier than doing so for more grounded and fact-based dramas like the aforementioned OPPENHEIMER. There are several big budget dramas that will be vying for Oscars early next year still scheduled for release through the end of 2023, however three such releases seem to be getting the most attention. Each of these films represent long-awaited historical dramas and period pieces helmed by legendary directors that feature marketable stars: KILLERS OF THE FLOWER MOON, NAPOLEON and FERRARI.
While the graphic above focuses on our predictive forecasting platform's domestic accuracy, global revenue projections are equally impressive. Focusing on Martin Scorsese's KILLERS OF THE FLOWER MOON, which just completed its theatrical run last week before moving to Apple TV+, it's obvious that a global box office tally of US$145.8m is not what Paramount Pictures had hoped for given the reported US$200m budget.
As shown in the graphic below, while the Cinelytic platform predicted a slightly more fruitful global theatrical run, it still managed to be 95% accurate thus far, with the change of that number to further improve during the final days of the release: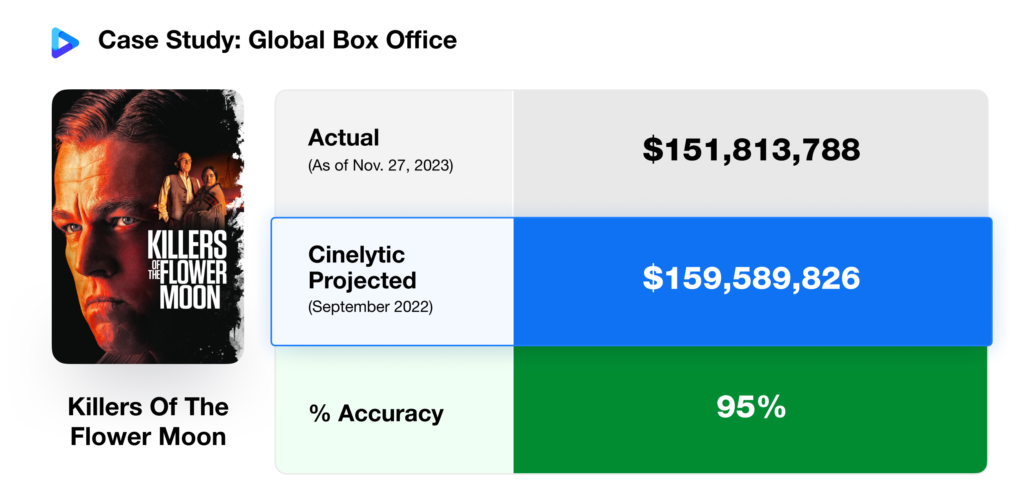 Being just a few days removed from the release of NAPOLEON and a few weeks away from the release of FERRARI, we at Cinelytic decided to utilize our forecasting tool and take a deep dive into how these films may perform financially, highlighting Ridley Scott's latest historical epic.
Our AI driven tool takes into consideration 19 material input attributes to determine a full-performance waterfall, P&L and ROI. We utilized the reported budget of US$200m, an additional US$120m in total P&A costs and a theatrical release strategy of 3,400 screens with Joaquin Phoenix in the lead. With these inputs, the Cinelytic platform predicts a DBO of roughly US$63.9m, domestic gross revenues (BO, HV, TV) that total roughly US$140.4m, and international gross revenues totaling US$196.0m: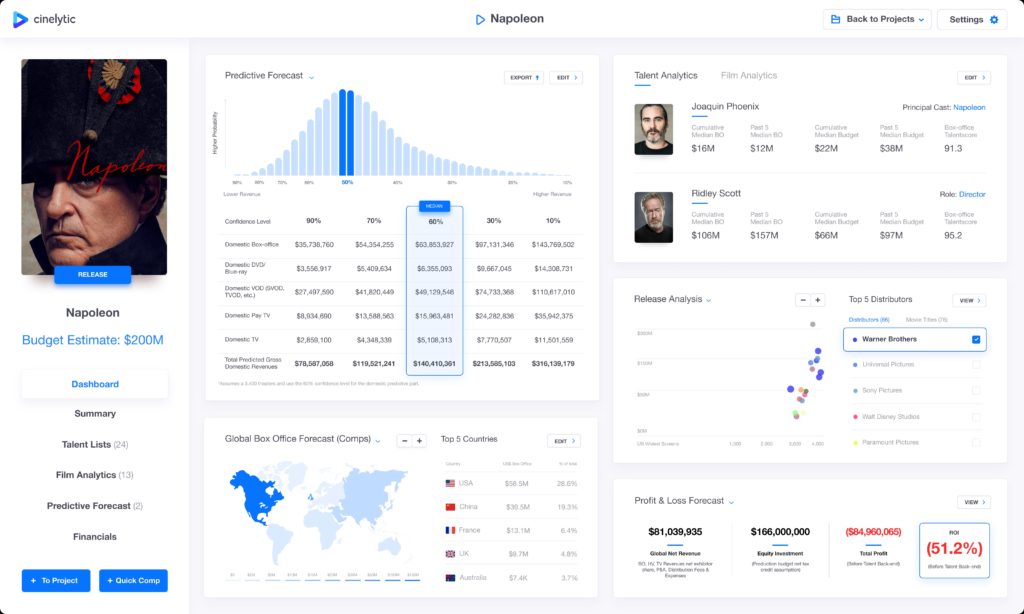 Based on the anticipated global net revenues (including BO, HE, TV net of distribution fees and expenses), the film is expected to result in a significant loss and a projected ROI of –51.2%. It's important to note however that the above projections assume traditional theatrical and home video release strategies. In reality, as per Apple's model with its previous releases, this film will likely only be made available at home for viewers with Apple TV+ subscriptions who will be able to watch the movie as many times as they please without the typical purchase or rental fees. This makes the negative ROI easier to stomach for a company with deep pockets like Apple that is more focused on driving up their subscriber count.
To understand whether the ROI, investment, and domestic/global net revenues are in sync for a film of this scale and caliber, it is helpful to compare the same data points for the other aforementioned notable drama awaiting release. As such, we used the Cinelytic platform to also run projections for FERRARI. The table below outlines the results output: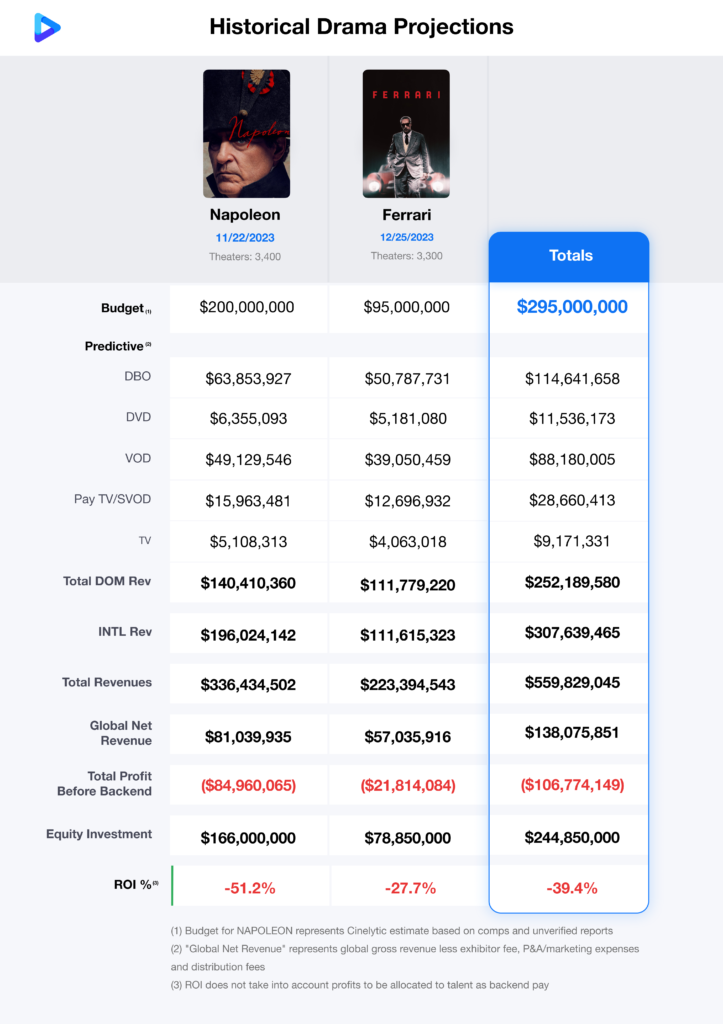 As shown above, while both titles together showcase an average ROI of -39.4%, FERRARI is projected to result in a considerably smaller loss for its various financial backers. Despite first exploring the project back in 2000, the film represents Michael Mann's first directorial effort since the critical and commercial disaster BLACKHAT in 2015.
The soon to be 86-year-old Ridley Scott has shown no signs of slowing down, with NAPOLEON being his third consecutive major historical drama in just a two-year span. The English cinema icon is also no stranger to global appeal, as his last three projects all feature plots and storylines in international settings. That being said, the first of these efforts (THE LAST DUEL) was an outright box office failure, and his follow-up HOUSE OF GUCCI, while more successful, still likely resulted in a loss for its investors.
Tech Giant vs Indie Distributor
It's interesting to note that the two larger scale titles discussed in these insights represent partnerships for Apple Original Films, as the largest tech company in the world is enlisting the help of Paramount Pictures and Sony Pictures for KILLERS OF THE FLOWER MOON and NAPOLEON respectively to handle theatrical distribution. While Apple has had exclusive albeit limited theatrical runs for some of its releases in the past (THE TRAGEDY OF MACBETH, CAUSEWAY, EMANCIPATION), these two titles have been granted traditional, global and lengthy windows more in line with what their directors are accustomed to prior to streaming releases on Apple TV+.
Due to Apple's aforementioned unique position, both of these releases have less of a need to result in a profit when it comes to theatrical runs, and more so represent "prestige projects" that will garner more credibility for the tech giant as a movie studio. The question for Apple then becomes: Does a theatrical run drive enough of a push for the Apple brand to increase Apple TV+ subscription numbers in a noticeable way?
On the other hand, FERRARI is pieced together indie production with a seemingly endless list of independent investors and producers who, unlike NAPOLEON's backers in Cupertino, definitely need to see a profitable partnership with theatrical exhibitors. Based on our prediction, FERRARI financiers will face a loss and a less than 25% probability of an outlier performance that would achieve a break-even. The domestic release represents Neon's largest endeavor to date, which will also be an interesting element to pay attention to. Being placed higher in the recoupment waterfall and maintaining control of P&A spend, Neon is in a more comfortable position to manage a break-even scenario. As we have no insight into the price or deal structure surrounding Neon's rights acquisition for this film, we are not able to pinpoint the break-even probability.
Changing Strategies
There is no argument against the fact that Christopher Nolan's OPPENHEIMER was massively successful on a record-breaking level. However, it's also obvious that the marketing campaign behind that release was anything but traditional. In the age of digital media dominance, social media platforms and audience engagement are instrumental in promoting movies to viewers around the world in the lead-up to opening weekends. "Barbenheimer" was a cultural phenomenon that without question created unprecedented excitement around a three hour partly black and white biopic that otherwise may not have existed, at least not to the same extent.
KILLERS OF THE FLOWER MOON, NAPOLEON and FERRARI have not had the benefit of a release like BARBIE to ride a wave with. For Apple, none of that may make a difference, as their aforementioned priority is likely more related to driving subscription numbers. However, for companies like Neon, the final box office figures for these three films may go a long way in influencing not only if studios will continue allotting lengthy theatrical windows for expensive historical dramas regardless of the talent and scale involved, but also in how they choose to market them.