As Oscar race kicks off, we take a look at how "Best Picture" nominees have fared at the box office in the years directly preceding and following the pandemic
Throughout the history of the film industry, prestige films that aim to take home the most coveted gold statue are rarely expected to make a sizable dent at the box office. In the months during and directly following the COVID-19 pandemic, that became truer than ever, as the audiences who dictate which movies do well were only making their way to theaters for the types of event films that usually don't hear their name called when "Best Picture" nominations are announced. However, while the film industry is without a doubt forever changed, the slow return to normalcy has yielded a number of theatrical releases in the past year that are collectively generating the types of revenue that at least slightly reminds us of the "good old days".
THE POTENTIAL NOMINEES
Every year, the team over at Variety makes their predictions on which films will be nominated for "Best Picture" at the upcoming Academy Awards. Using their predictions as an initial guideline with only a couple differing opinions, we at Cinelytic decided to put together our own list of the 10 films likely to be in the race and took a look at how they have performed thus far in theaters: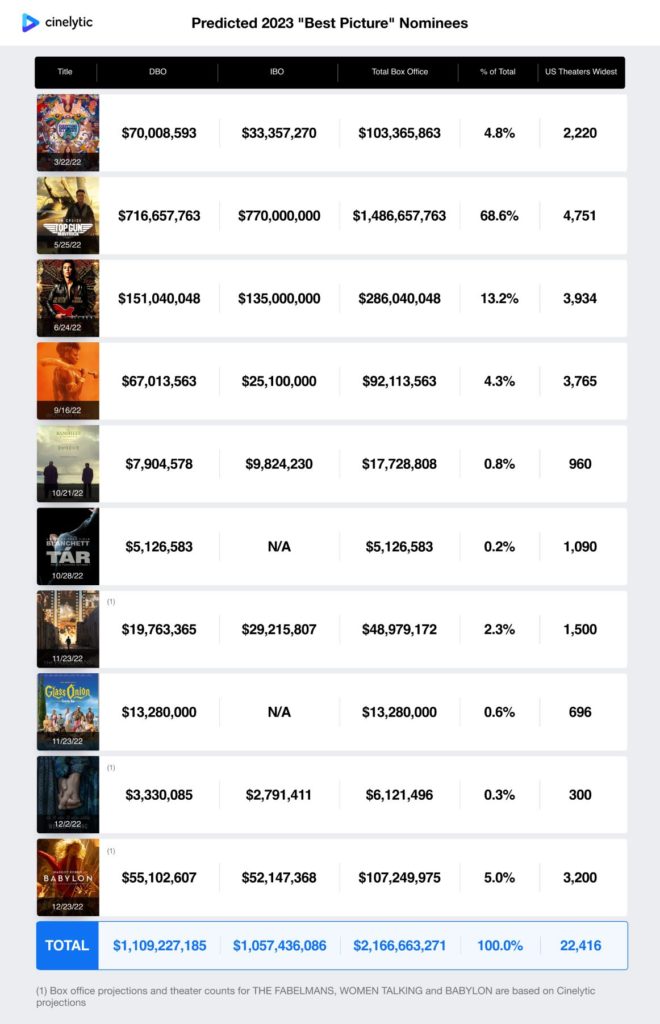 As Steven Spielberg's THE FABELMANS, Sarah Polley's WOMEN TALKING and Damien Chazelle's BABYLON have yet to enjoy a wide release, the figures shown in relation to these three titles were generated using our Cinelytic projection platform and the use of 19 key attributes that run the AI output, including budget, genre, rating, talent and IP value. A quick look at the table above makes it evident that much of the collective box office performance (roughly 69%) from these titles has been carried by Paramount Pictures and TOP GUN: MAVERICK, with its eye popping US$1.5b of global revenue and now cemented rank as the eleventh highest grossing film in history. While this kind of monumental gross from a single title may seem like an anomaly for a set of "Best Picture" nominees, that just isn't the case. In the two awards ceremonies that took place prior to the pandemic (the 91st and 92nd Academy Awards), three films amongst the 17 total nominees grossed just under to well over US$1b at the global box office: BLACK PANTHER (US$1.4b), BOHEMIAN RHAPSODY (US$911m) and JOKER (US$1.1b). Between those two years, these three titles made up 57% of the total box office gross amongst all "Best Picture" nominees.
WHAT ABOUT 2020 – 2021?
Did this same "blockbuster boost" pattern take place during the COVID era? Of course not. With everyone stuck at home, the vast majority of films during this time were initially released straight to streaming and later via the "day-and-date" model. The pre-pandemic 91st and 92nd awards had only three nominees with streaming focused releases (ROMA, THE IRISHMAN, MARRIAGE STORY). Contrarily, the 93rd and 94th ceremonies showcased 10 out of 18 "Best Picture" nominees that either had little to no exposure in theaters or simultaneous "day-and-date" releases. The highest grossing of these films was Warner Brothers Pictures' DUNE, which pulled in US$402m. The next highest was more telling of the times, as Walt Disney Studios and WESTSIDE STORY managed to earn only US$75m. The table below outlines how all the nominees have performed since the 2019 ceremony, inclusive of our predictions for upcoming 95th Academy Awards: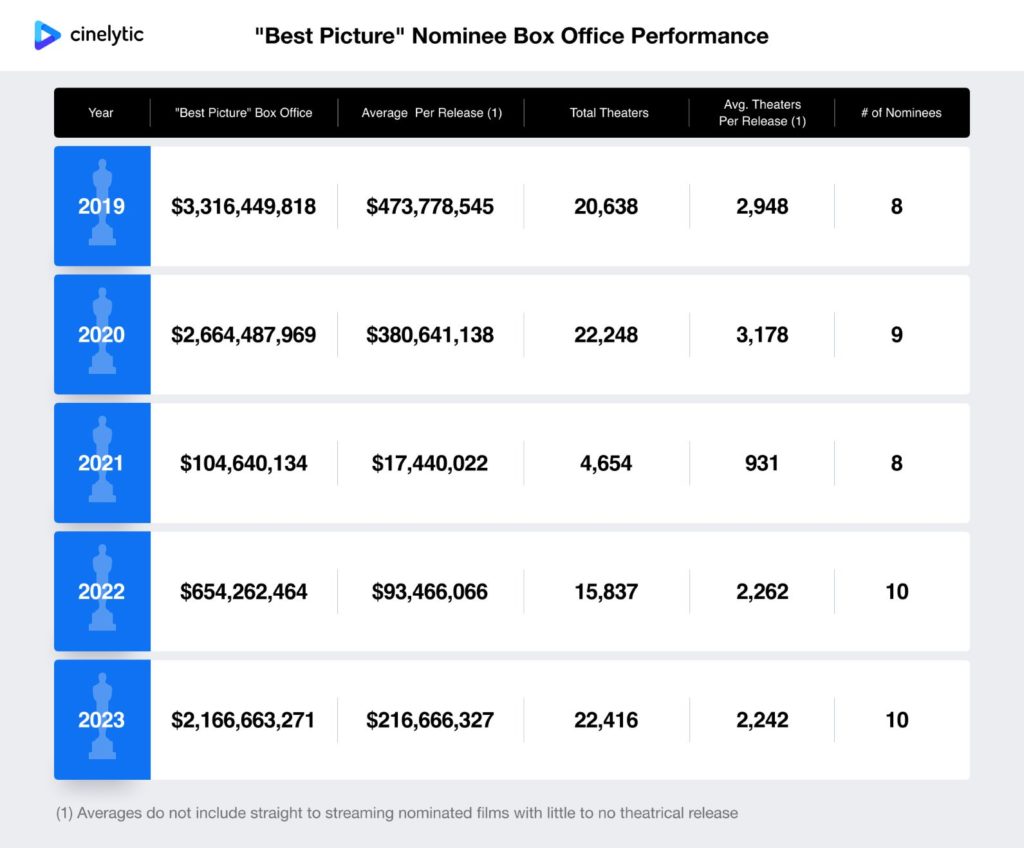 ARE WE BACK TO NORMAL?
If our predictions and projections are correct and the upcoming "Best Picture" contenders collectively gross upwards of US$2.2b at the global box office, that will be welcome news for studios and exhibitors who saw nominees over the previous two years total US$759m. Furthermore, if titles like BLACK PANTHER: WAKANDA FOREVER, which to date has grossed US$678m worldwide, and AVATAR: THE WAY OF WATER, whose predecessor accumulated a historic US$2.7b, somehow sneak their way into the list of nominees, that collective total may be significantly higher.
All that said, the reality is that "Best Picture" nominees represent only 10 films. When focusing just on total domestic box office performance, 2022 has thus far earned US$6.7b. While that's a solid increase in comparison to US$2.1b in 2020 and US$4.5b in 2021, it's a far cry from the US$11.6b average between 2018 and 2019. Though it's clear that we've got a long way, 2022 represents the first step in a positive direction to hopefully reach levels sooner rather than later that the industry deems acceptable.