August Summer Blockbusters Do Not Disappoint. Differentiated release strategies point to varying degrees of success for F9, JUNGLE CRUISE and THE SUICIDE SQUAD
As we roll into the end of Summer, three powerhouse films were still set to release to make noise in August. The focus in this month's blog is to see if OTT playability continues with the similar trends we have seen since the start of Summer with the release of BLACK WIDOW by reviewing F9, JUNGLE CRUISE and THE SUICIDE SQUAD.
Audiences Like OTT
We took our proprietary OTT Demand Data which captures 125m daily P2P transactions for a yearly total of 35b transactions. The best metric for the demand data is the representative market share a title holds against all titles in release. By this measure, Cinelytic is able to compare films like for like without the issue of seasonality.
In this case we took the first 7 days of P2P consumption for each of F9, JUNGLE CRUISE and THE SUICIDE SQUAD.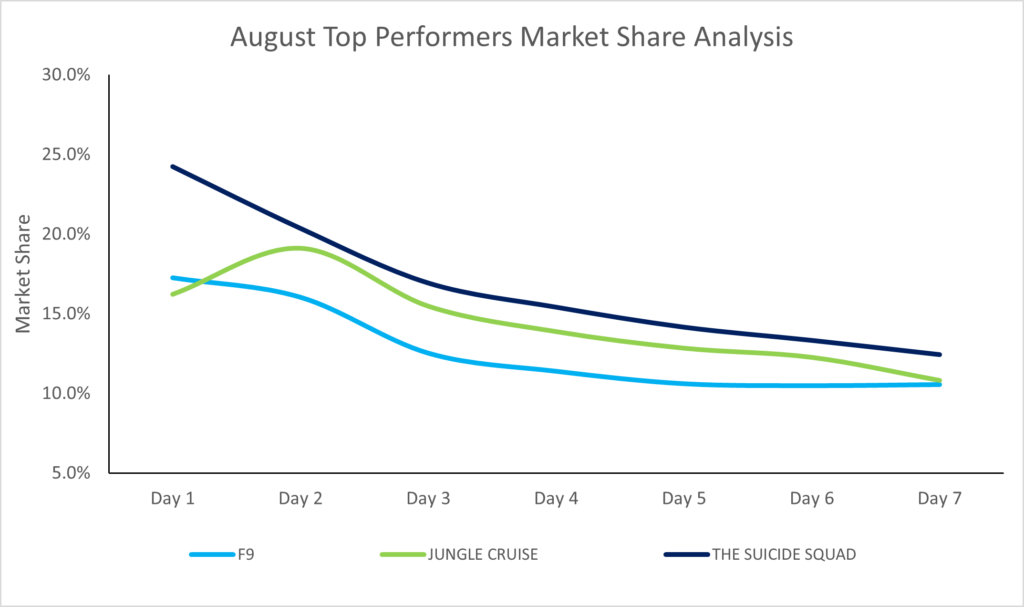 The data shows that both F9 and JUNGLE CRUISE dominated the marketplace in their respective first 7 days. As the graph above shows, JUNGLE CRUISE edged out ahead of F9 for the top spot and has continued to do so up and until the release of THE SUICIDE SQAUD. Together on most days they average a 26% market share, roughly in line with BLACK WIDOW performance. Even apart they dominate the space with the nearest competitor performance at 25%-45% the level of either film.
THE SUICIDE SQUAD released on August 6th, devoid of opening weekend competition. Both JUNGLE CRUISE and F9 had opened 8 days earlier. The film opened well and continues to lead in the #1 spot. Understanding the success on OTT begs the question of how does it fare against BLACK WIDOW, the leader so far this summer and how does it compare against everything else released to date.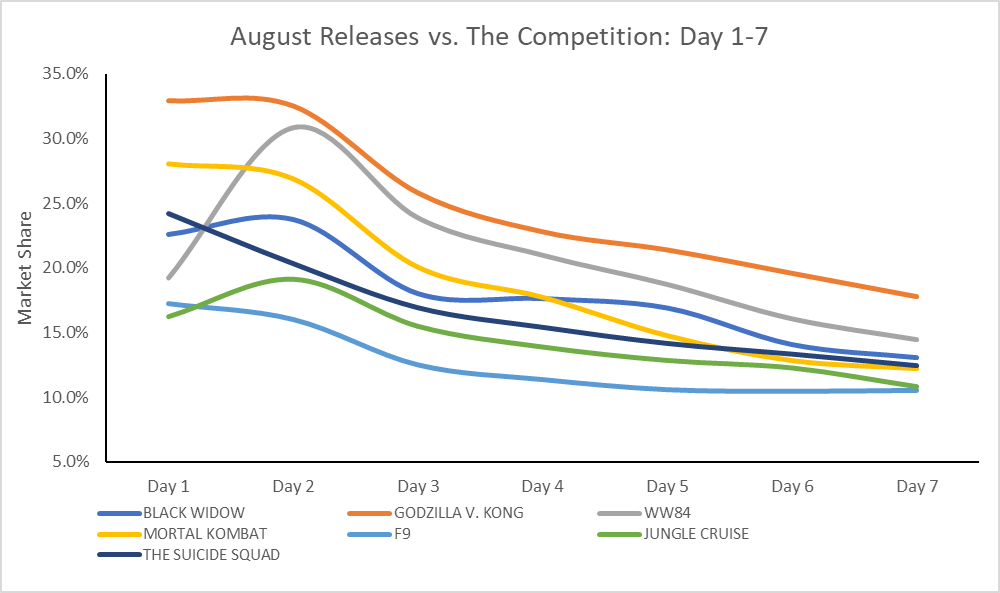 Looking at comparable titles really adds clarity to the discussion. One now understands that THE SUICIDE SQUAD is basically playing out on OTT similarly to BLACK WIDOW. From an OTT standpoint it will be the 2nd highest film of the Summer behind BLACK WIDOW.
Yet when compared against Q4 2020 and Q1 2021 titles, the same pattern emerges that we discussed last month. THE SUICIDE SQUAD does not capture the same level of viewership as GODZILLA V. KONG, WONDER WOMAN 1984 and MORTAL KOMBAT. This again points to the argument that Q42020 and Q1 2021 look to be a moment in time in terms of OTT performance that we may not see again unless theaters are either limited or closed and the bulk of consumption is pushed to OTT.
Yes But What About the Numbers…
When combining the OTT consumption we have outlined with Box Office performance and by media revenues what does it ultimately mean to these US$200m budgeted behemoths.
All three films had varied release strategies with F9 releasing theatrically on June 25th and its OTT release over a month later on July 30th. THE SUICIDE SQUAD and JUNGLE CRUISE both released D/D.
Running a pre-pandemic revenue forecast for all three titles in the Cinelytic system it becomes clear that F9 appears to get closet to its pre-pandemic projection whereas the other two fall short. Thus, from a Box Office perspective, a five-week window to OTT release feels appropriate.

The issue though is that releasing on OTT with JUNGLE CRUISE hurt F9's ultimate performance on OTT and had it released D/D on June 25th could F9 have captured a larger market share on OTT thereby securing a more robust return.
JUNGLE CRUISE approached the market with a mixed release strategy that appears to have achieved a goldilocks type result, not too hot, not too cold but something that feels just right. It will capture decent box office but will also capture good OTT viewership. Together it translates to a fair result in theaters and a big win for subscribers of Disney+.
THE SUICIDE SQUAD is continuing the strategy they have applied all year. From an OTT standpoint, the film seems to be performing well for HBOMax. We will see how DUNE performs when it releases D/D in October. Additionally, the release script will now change for 2022 with AMC announcing last week that it will have a 45 day window for all WarnerBros. titles before releasing on HBOMax.
Join us in the coming months as we see how SHANG-CHI AND THE LEGEND OF THE TEN RINGS and NO TIME TO DIE perform.