BLACK WIDOW and THE TOMORROW WAR lead the tentpole charge in July, but is it enough to dethrone the reigning OTT champion GODZILLA V. KONG and is it a sign of things to come??
With Summer well under way, this month we wanted to focus on how Summer tentpoles are playing and what does it mean for consumers going to theaters and watching films release via OTT. Cinelytic is here to help provide transparency to the issue by using our proprietary AI powered film analysis platform along with our OTT consumer demand data to give you insight.
BLACK WIDOW Delivers
The industry has collectively been waiting for the release of BLACK WIDOW and it has not disappointed. The film opened with a bang to a pandemic high of US$80.4m. The film at the same time also released on Disney+ Premiere Access and judging from our P2P consumption data has also had spectacular results.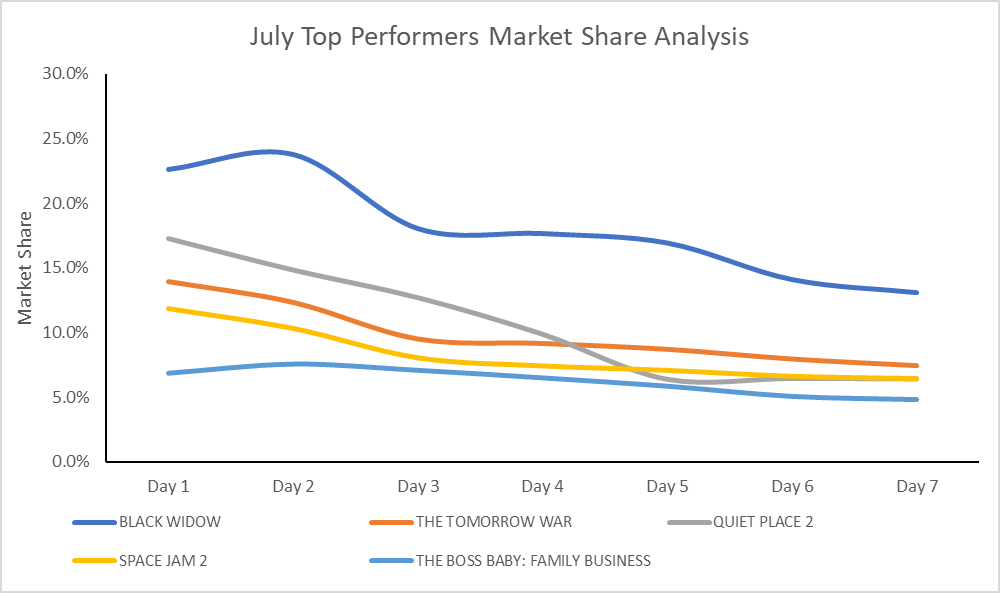 BLACK WIDOW in its first seven days of release on OTT has captured the #1 spot with an opening day of 22.6% of the top 100 market share and has averaged 18% over the course of that week. In terms of its peers, one can see that it has truly eclipsed the competition whether the films released D/D like SPACE JAM: A NEW LEGACY or THE BOSS BABY: FAMILY BUSINESS, released in theaters with a later OTT window like THE QUIET PLACE 2 or released directly to OTT as in the case of THE TOMORROW WAR.
The reality is that four of these films released theatrically and on OTT within two weeks of each other and competition was bound to impact performance. Results are mixed in this environment as to whether one release strategy over another made the difference for any title.
Taking a look at our platform results, BLACK WIDOW is projected to gross Domestic Box Office of US$200m, $150m below our projected pre-pandemic gross of $350m. Having said that though as one sees below the mixed release strategy will pay dividends for the film. Reviewing the Top 2021 OTT releases that also had a theatrical release, what we see is that good content with lackluster theatrical opening weekends tend to perform well on OTT and vice versa. With BLACK WIDOW though we see that great content performs well in both media, capturing both strong opening weekend by theater performance as well as OTT Top 10 Market Share.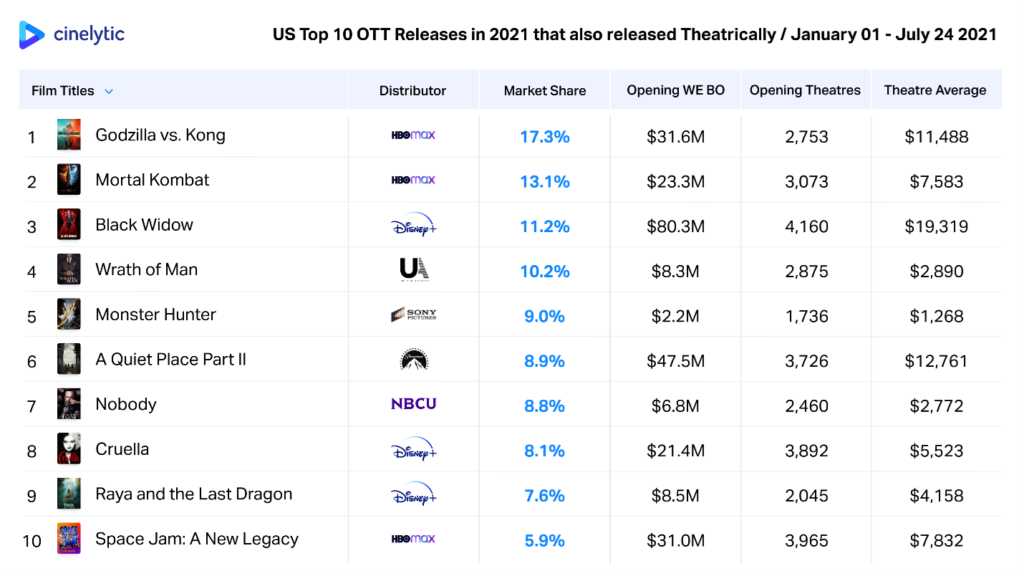 We also though have to look to how BLACK WIDOW plays out amongst peer titles from 2020 and 2021 who had D/D releases along with straight to OTT exclusives to get the full picture. Below we outline the OTT results for the 1st seven days of release for various tentpole performers.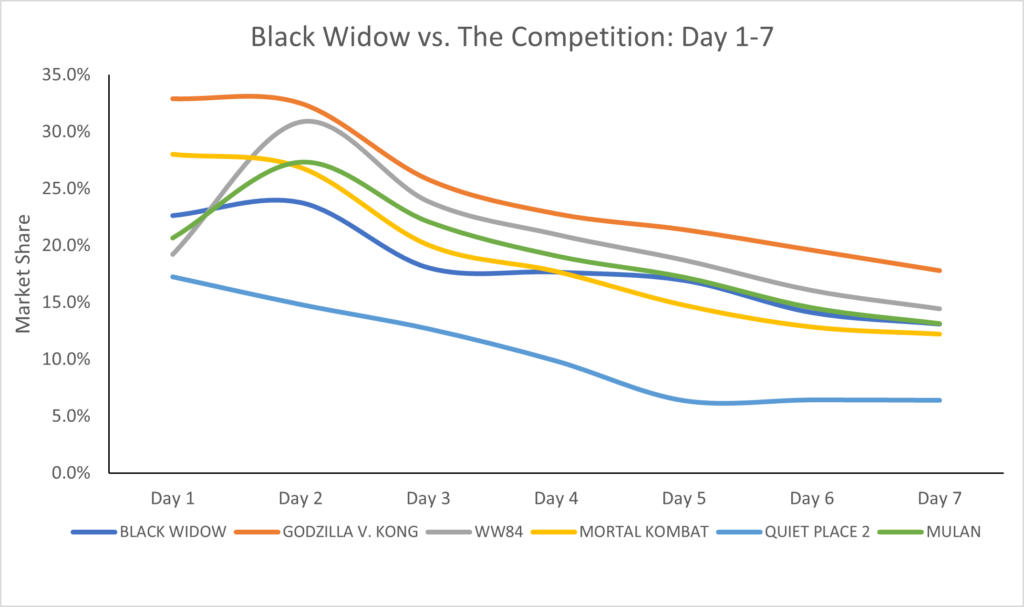 When looking at this peer group, one sees that although strong, other titles such as GODZILLA V. KONG, WONDER WOMAN 1984, MORTAL KOMBAT and MULAN performed better than BLACK WIDOW in its OTT release. Those films that generated limited DBO due to COVID restrictions and/or direct to OTT releases had an explosion of demand in OTT. MORTAL KOMBAT, WONDER WOMAN 1984 and MULAN all fit this description. The outlier of GODZILLA V. KONG shows that great product can transcend and perform in both theaters and OTT. This is the case with BLACK WIDOW. It has been anticipated all year long as the title to break through and bring audiences back to theaters while also pushing viewership on OTT.
On the flipside, a stellar product like QUIET PLACE 2 really did need to live in theaters and it has succeeded with a DBO cume of US$156m and IBO of US$131m, a short distance from its predecessor that grossed DBO of $188m and IBO of $162m. The film needed theaters to live and has had less than stellar results on OTT.
Conclusion: The Times They Are A Changing
BLACK WIDOW will finish with great box office as it ends its run, it will also finish with a stellar result on OTT. It may not eclipse the big titles on OTT from late 2020 and early 2021 but that is likely the point. Those four films; GODZILLA V. KONG, WONDER WOMAN 1984, MORTAL KOMBAT and MULAN may end up being a moment in time in terms of theatrical and OTT performance. Mixed release strategies will be the norm as we see now in July. The one key point, great product will always rise to the top no matter its media. But will we see similar OTT results that we had for GODZILLA V. KONG and others in an environment where theaters are open and there is access to films outside the home?
We expect to see more evolution in the Box Office and the OTT space this Summer and will look to F9, JUNGLE CRUISE, THE SUICIDE SQUAD and SNAKE EYES: G.I. JOE ORIGINS for answers.