June Insights by Cinelytic: Streaming / Day & Date / Theatrical Release Strategies Update 2021 – What We Learned So Far
For our June Cinelytic Insights we reviewed the year to date for OTT consumption to understand if there was any correlation between performance at the Box Office and performance on OTT. Is there anything that can indicate the types of films that should be released in one medium versus another. Cinelytic is here to help provide transparency to the issue by using our proprietary AI powered film analysis platform along with our OTT consumer demand data to give you insight.
In this case, we used our proprietary OTT consumer demand data which captures 125m daily P2P transactions for a yearly total of 35b transactions globally. The best metric for the demand data is the representative market share a title holds against all titles in release. By this measure, Cinelytic is able to compare films like for like without the issue of seasonality. Furthermore, we focused on the strongest week of performance (initial release on OTT) and compared against the top 10 for the January 1 – June 15 (2021) time period, rather than cume to date as otherwise giant titles from 2020 like WW84 and TENET would eclipse the top ten and then later in the year films like DUNE, TOP GUN and NO TIME TO DIE would not have opportunity to shine in their respective release weeks.
The top 10 market share as outlined below is for feature films that had theatrical as well as D/D and/or subsequent OTT releases:

What the OTT consumption data shows is that quality feature film product of a high range will perform in both theaters and OTT. GODZILLA V. KONG and WONDER WOMAN 1984 sit in these positions. Upcoming releases of BLACK WIDOW, THE SUICIDE SQUAD, SHANG-CHI, VENOM, NO TIME TO DIE, TOP GUN, etc. should play out in both box office and OTT. CRUELLA in this group failed to capture box office and sits 6th in terms of the top 10 OTT strongest weeks. Whether it stays in the top 10 is questionable in light of the caliber and quantity of upcoming releases.
Mid-tier and lower budget product if well executed and of value may not have explosive box office performance but will capture strong market share in OTT. We see that in the case of MORTAL KOMBAT and in particular CONJURING: THE DEVIL MADE ME DO IT which has some of the strongest OTT performance to date and the film has only been in release for 12 days. It will be intriguing to see where it places at the end of the year. Furthermore, lower budgeted films, as we see from the results above, sit in a precarious position as if they are of quality, they could forgo a theatrical release and have a strong and healthy life on OTT. Titles like WRATH OF MAN, NOBODY and MARKSMAN will be interesting to follow to see cumulatively how they perform at the end of year against everything else in release. By forgoing theaters, P&A could be spared, and net profit could be accelerated. The outlier here is MONSTER HUNTER, a mid-budget adaptation of a video game that got trapped by COVID to release at the end of 2020. It is having great OTT performance to date and begs the question of whether it should have gone straight to OTT. Looking at a title like ARMY OF THE DEAD that is performing well on Netflix, one would think that MONSTER HUNTER could have released in a similar fashion.
For comparison purposes, we also looked at features that strictly premiered on OTT and bypassed theatrical. Below is the top 10 market share for the January 1 – June 15 (2021) time period: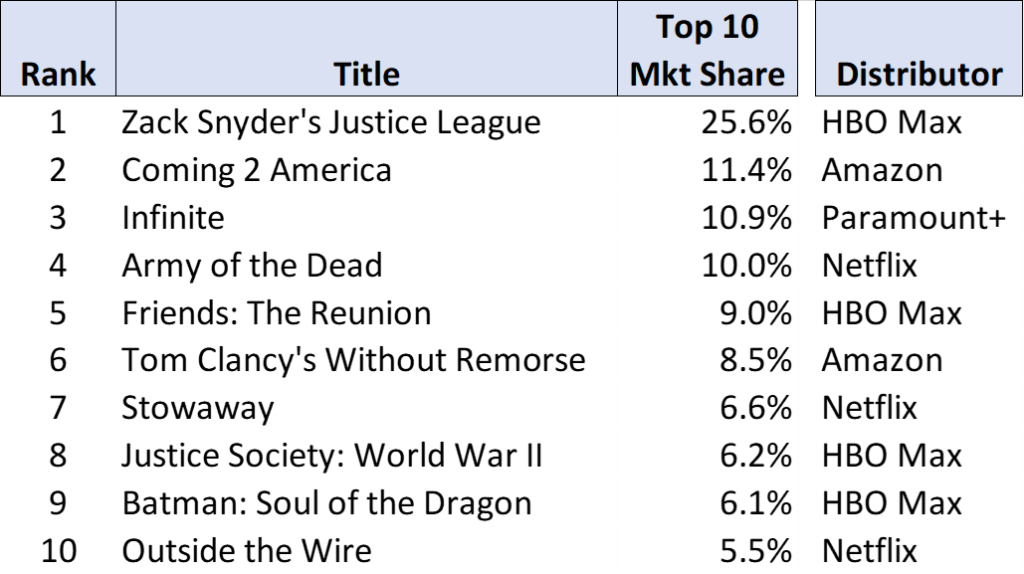 The data further proves the point made above that certain films have a greater opportunity releasing in OTT rather than risking a traditional theatrical release and expending P&A. Films like COMING 2 AMERICA, ARMY OF THE DEAD, WITHOUT REMORSE and STOWAWAY are performing well in this media and garnering audience. (Take a look at our March Cinelytic Insights wherein we review how COMING 2 AMERICA was a win for both Paramount and Amazon.) INFINITE appears to be a big budget title that bypassed theatrical to appear on Paramount+ and may have made the right choice to forgo P&A and capture audience share on the streamer. It released June 10th and it will be interesting to compare OTT consumption against bigger budget thrillers later this Summer in particular TOMORROW WAR on July 2nd.
These films do have range to perform, looking at the straight to OTT titles, three titles captured 50% of the top 10 market share. For titles that also released theatrically, the top three titles held just 44% of the top 10 share. JUSTICE LEAGUE proves a bit of an anomaly being a 2017 release with a $300m budget that came out as a four-hour extravaganza. The film captured strong market share, more than both the 2nd and 3rd title combined. It is a testament to the quality of the content and like we said above bigger budget quality content will have room to perform on both OTT and the Box Office.
All to say that as theaters open and films release, we hope to see box office and attendance improve while providing a foundation for OTT. The mid-year data shows that quality product with bigger budgets will have strength in both Box Office and OTT. The question going forward will be for mid-tier and lower budgeted projects. Cinelytic P2P consumer demand data along with full P&L and ROI analyses from the platform will provide a detailed understanding of whether one should risk P&A and release theatrically or preserve cost and launch on OTT. Stay tuned for more data and analysis as 2021 plays out.