November Insights from Cinelytic
Audiences win in November: Five Major Titles Release on OTT with a cumulative budget of almost $1b. Which ones win?
The COVID-19 pandemic led to lockdowns and theater shutdowns that have forced film studios around the world to test different strategies as it relates to film releases. No longer will major blockbusters enjoy 90-day exclusive theatrical release windows prior to being made available at home, and what the industry has been seeing as an expected and unavoidable transition to a streaming-first mindset was significantly accelerated with the events that began taking place in 2020.
Three such methodologies that we've seen utilized include exclusive but shrunken theatrical release windows (followed by a streaming release), day-and-date releases, and straight to streaming releases. Over the summer we saw this play out with BLACK WIDOW, JUNGLE CRUISE, F9, THE TOMORROW WAR and many others. We wanted to see how these strategies would play out in November for varied release strategy titles including SHANG-CHI and NO TIME TO DIE (theatrical with subsequent OTT release) DUNE (D/D release) and FINCH and RED NOTICE (straight to streaming). To best understand performance, we focused on a green light/P&L analysis of SHANG-CHI generated through the Cinelytic cloud based, predictive analytics platform. To understand the full spectrum of performance, we used our proprietary OTT audience data for all five titles to see how they have done since release.
Theatrical to start…streaming to follow: The Shrunken Window
In November of 2019, Walt Disney Studios took a major gamble in the world of streaming with the unveiling of Disney+, which now has over 118 million subscribers worldwide as of fourth quarter of 2021. In addition, by making three of its top recent movies exclusively available on the streaming service (MULAN, SOUL, LUCA), followed by four day-and-date releases (RAYA, CRUELLA, BLACK WIDOW, JUNGLE CRUISE), the studio made it known that quick access to home viewing would be a key aspect of its release schedule for the foreseeable future.
However, with moviegoers slowly but surely returning to cinemas as we entered the 2nd half of 2021, Disney has also been dabbling in shrunken 45-day theatrical release windows followed by availability on Disney+ for blockbusters like FREE GUY, SHANG-CHI and ETERNALS.
Using SHANG-CHI as an example given its recent debut on Disney+ on November 12th (prior theatrical release on September 3rd), we ran the film through our predictive module. The film's opening weekend grossed over $75m million in the three-day weekend and $90m over the four-day holiday in the US, setting a new Labor Day holiday weekend record. To date, the film has grossed DBO of over US$224m and IBO of over US$206m.
Utilizing a budget of US$150m, global P&A costs totaling an additional US$200m, and 19 key attributes to run the AI output including budget, genre, rating, talent, IP value, etc., the platform projects DBO of US$238.9m and IBO of US$280m. The film has yet to open in China and domestically there is some playability over the coming holidays.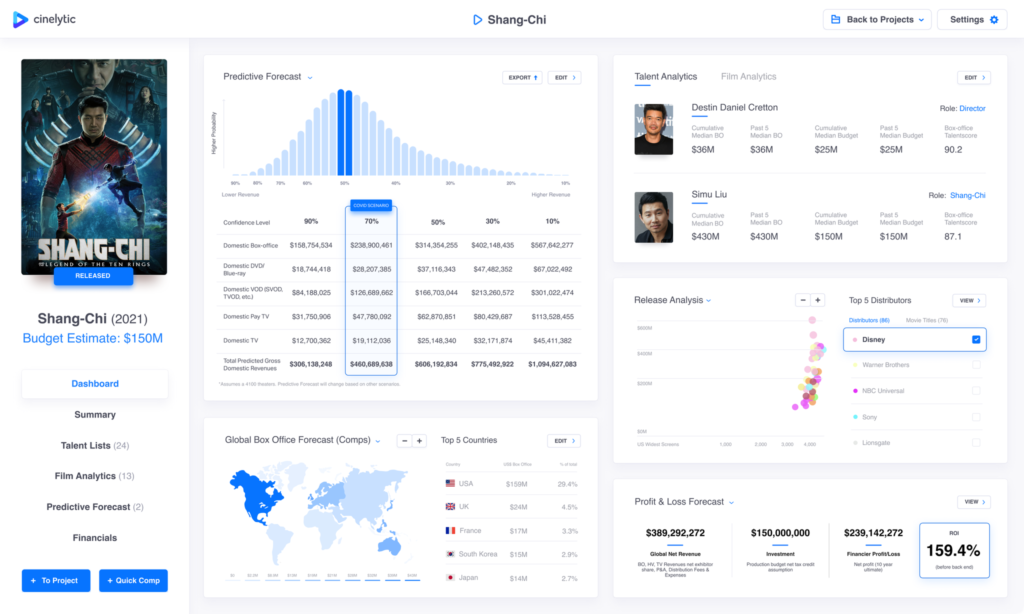 Based on the projected global net revenues against a budget of US$150m, the film is projected to generate a gross net profit to the studio of 159%.  This is before taking into consideration any talent deals and/or financiers.  From an overall P&L standpoint it appears to be profitable to the studio, from a box office perspective the same.  For comparison purposes, looking at DUNE, using the same metrics as above, on a budget of US$165m, the film is projected to gross net profit to the studio of 63%.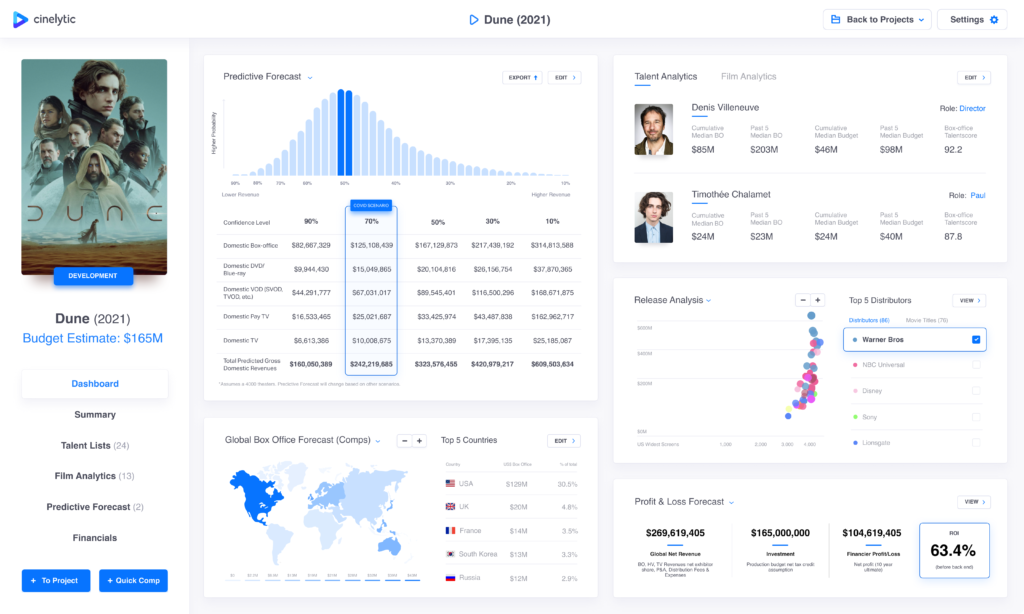 How does this translate to other windows, will these performances hold up?
Theaters v. Couch: Is one release better than the other
To understand the full picture of how the title will do in the current environment, we also need to look at its OTT performance to date as well as other comparable titles. We took our proprietary OTT Demand Data which captures 125m P2P transactions daily for a yearly total of 35b transactions. The best metric for the demand data is the representative market share a title holds against all titles in release. By this measure, Cinelytic is able to compare films like for like without the issue of seasonality.
In this case, we took the first 7 days of P2P consumption for each of SHANG-CHI, NO TIME TO DIE, DUNE, FINCH and RED NOTICE.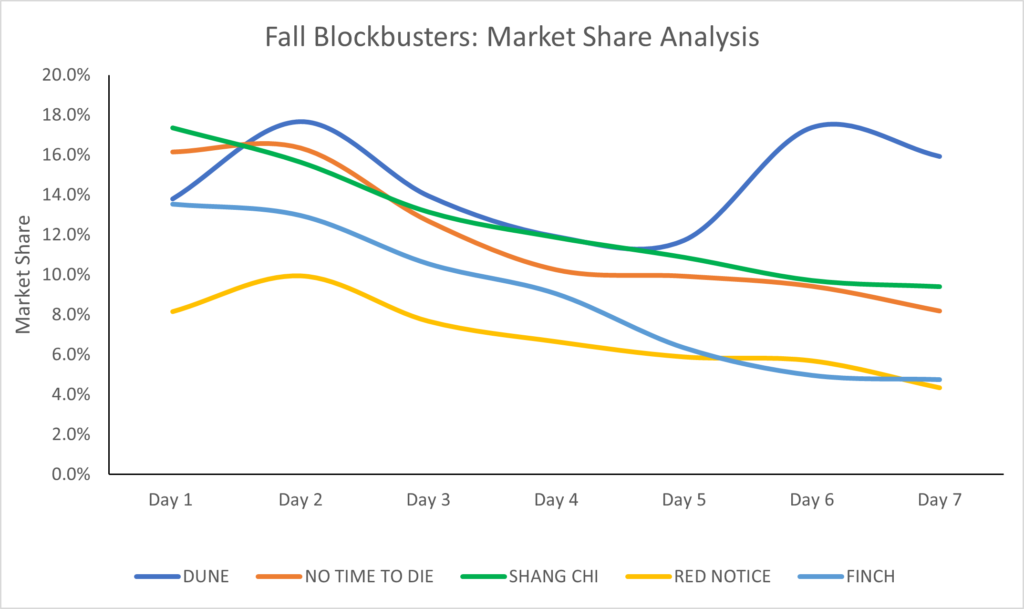 Four titles released within one week of each other: NO TIME TO DIE, FINCH, SHANG-CHI and RED NOTICE. DUNE had a bit of space with an earlier October release. Without tough competition, DUNE maintained a high level of OTT performance all the while also being available in theaters. The late week pop is unlike other HBO Max D/D releases this year and bodes well for the title. Between SHANG-CHI and NO TIME TO DIE, SHANG-CHI captured more market share which may have been driven by the price point during those first seven days of release. RED NOTICE came into a crowded market and fared well amongst this level of competition, popping on Day 2 of its release. RED NOTICE ranks as the strongest release to date on the platform. Normalizing for platform bias and taking a cross platform view shows that traditional studio blockbusters like DUNE, NO TIME TO DIE and SHANG CHI ultimately outperformed RED NOTICE by a material margin.
SHANG-CHI in terms of market share performed similar to the opening weeks of JUNGLE CRUISE and F9 this summer. While not to the opening week OTT numbers of BLACK WIDOW or SUICIDE SQUAD, none of these titles walked into as much strong competition as SHANG-CHI. The same can be said of these other October/November releases, all are fantastic results in light of the company they keep.
Yes, So What?
But what does this all mean. We know SHANG CHI shows a strong profit and ROI. We know from an OTT standpoint it has done well against other films. Ultimately the conclusion is that windows matter. We have seen time and time again that a theatrical release with a shortened 45-day window allows for a feature to win both at the box office and at home. D/D strategies allow for some box office wins but bigger successes for viewing at home. This is/was a viable strategy for incentivizing streaming subscribers in 2021. Straight to streaming shows a great deal of promise for the pure plays such as Netflix and will continue to do so, both for the film P&L and the streamer hosting the title on their platform. Last, film release strategies continue to be tactical in their execution with decisions being taken on a case-by-case basis in light of the current environment. After an experimental 2020, it seems that most larger films will settle on the 45 day theatrical window in 2021 before going Home Video. D/D as well as straight to streaming will be viable alternatives for medium to smaller titles. We will be watching closely.