December Insights from Cinelytic
Oscar Race Kicks Off in November: HOUSE OF GUCCI's theatrical release places it in direct competition with five competing fact-based dramas with OTT releases in the same month.
Oscar season is the time between late-fall and early-winter in which Hollywood studios release or promote the films they consider most likely to be critically acclaimed in the hopes of winning big at the Academy Awards. When it comes to genres that usually fare well, the Academy voters' love of biopics extends to Hollywood's early days. In keeping with this theme, early indications point to this year's Oscar race being heavy with biopics and films based on true stories.
On November 24th, possibly the most high-profile and consistently hyped biopic of 2021 was finally released: Ridley Scott's outrageous real-life story of crime and passion surrounding an Italian fashion dynasty – HOUSE OF GUCCI. Throughout the same month, five other well reviewed titles hoping to stake their own claims for a gold statue were also all made available to viewers via OTT services: SPENCER, THE EYES OF TAMMY FAYE, KING RICHARD, TICK, TICK…BOOM! and THE LAST DUEL. We took a deep dive into all these releases using both our Cinelytic intelligence platform to forecast a traditional release model and our proprietary P2P data to understand consumer demand at home throughout the month of November.
A CLASSIC THEATRICAL WINDOW: HOUSE OF GUCCI
Boasting a budget of US$75m and a talent pool that encompasses both established and new age Hollywood royalty, this glamorous assessment of the Florentine house's disturbing history made its way to theaters around the world just before the Thanksgiving holiday. The film will remain exclusively available in theaters until its release on Paramount+ on a yet to be disclosed date. Opening weekend numbers were highly impressive in the post-pandemic environment for MGM. The film took US$14.2m over three days and US$21.8m over five days, equating to the best opening weekend for a drama for two years and achieving a feat not realized at the box office by a drama movie since the success of LITTLE WOMEN in December of 2019. To date, the film has grossed DBO of over US$41.0m and IBO of roughly US$52.0m, with 45% of viewers being between the ages of 18 and 34, and 34% over the age of 45, a higher-than-average result for a drama film targeting an older audience during the COVID-19 pandemic.
We ran the film through our pre-pandemic predictive module utilizing a budget of US$75m, global P&A costs totaling an additional US$70m, and 19 key attributes to run the AI output including budget, genre, rating, talent, IP value, etc. The resulting projections from the platform include DBO of US$56.2m and IBO of US$53.6m. The film has yet to open in several international markets, with debuts in Australia, Japan and Korea occurring in 2022. There is also the potential for upcoming and added domestic playability over the coming holidays.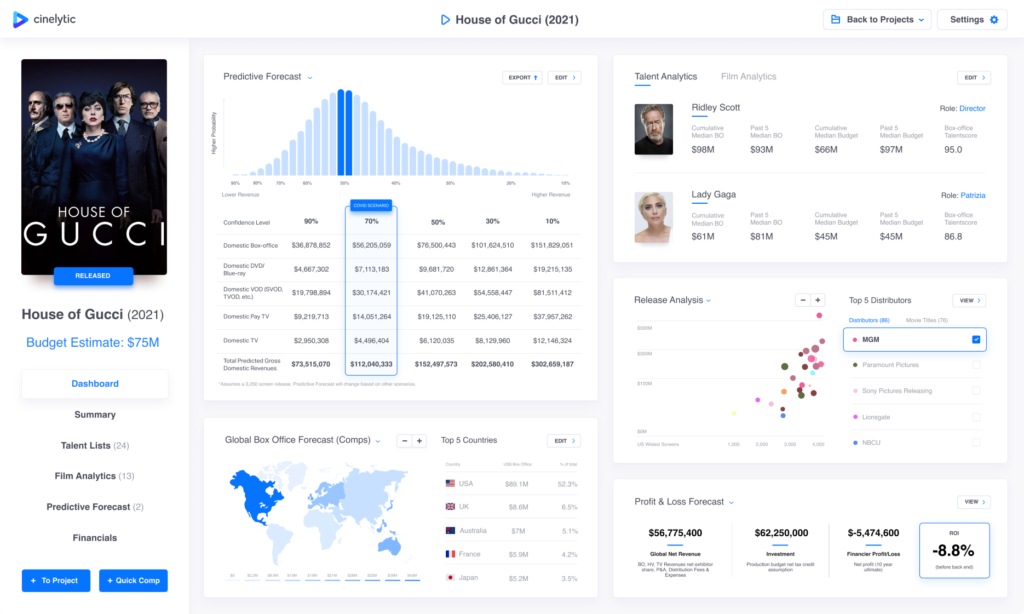 What we see from the financial results is that depending on performance in other media, the film will suffer a loss or break-even. But is this the only possibility of performance. Looking at other media would help to see if the title can generate a profit.
COMPETITION FROM THE COUCH: STREAMING RELEASES GOING HEAD-TO-HEAD
To understand the full picture of how the title will do, we normally would look at its OTT performance to date. Since HOUSE OF GUCCI's streaming performance will not be measured until early in 2022, we decided to use our proprietary OTT Demand Data to analyze five fact-based dramas that all competed with HOUSE OF GUCCI for November viewership and will be campaigning for many of the same Oscar categories. This data captures 125m daily P2P transactions for a yearly total of 35b transactions, and the best metric pulled from this information is the representative market share a title holds against all titles in release.
In this case, we took the 1st seven days of P2P consumption for SPENCER, THE EYES OF TAMMY FAYE, KING RICHARD, TICK, TICK…BOOM! and THE LAST DUEL: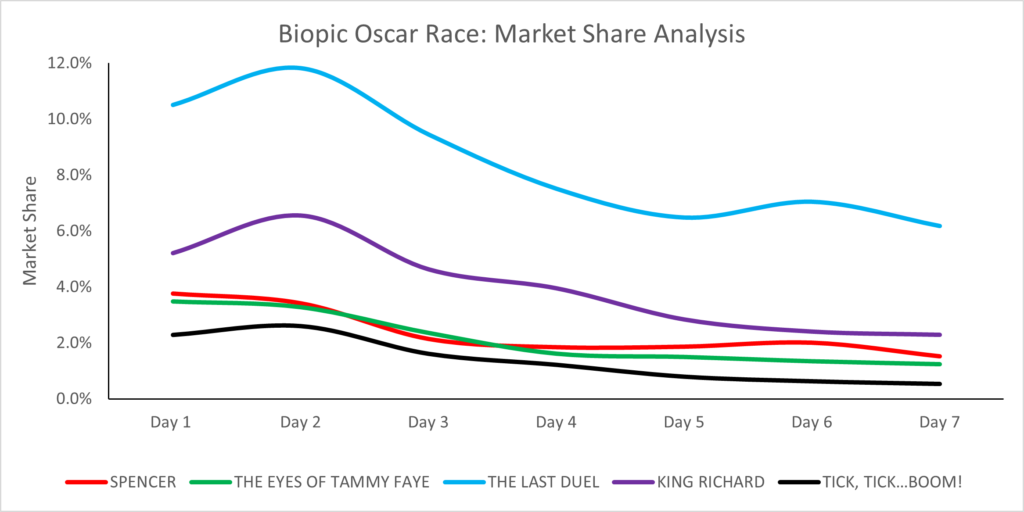 SPENCER, THE EYES OF TAMMY FAYE and THE LAST DUEL were exclusively released in theaters with differing windows. KING RICHARD's HBOMax release followed a day-and-date format, while TICK, TICK…BOOM! was directly released on Netflix. THE EYES OF TAMMY FAYE was the first of these titles to receive a digital release and was made available to "at home" viewers on November 2nd. The remaining four titles were all released on OTT between November 19-29.
As shown in the graphic above, THE LAST DUEL is in a league of its own with a median market share percentage (7.5%) that nearly doubles the closest competition. Coming in 2nd place with a median market share percentage of 3.9% is KING RICHARD, which follows a similar pattern to THE LAST DUEL in that it pops on Day 2 of its release and steadily declines afterwards. However, unlike KING RICHARD, THE LAST DUEL does see an additional rise on its 6th day of streaming.
The remaining three titles all failed to reach even 4.0% of market share on any of their respective 1st seven days. Both SPENCER and THE EYES OF TAMMY FAYE seemed to slow their declines beginning with Day 4, while TICK, TICK…BOOM! saw a consistent and more rapid descent after a slight Day 2 boost.
WHAT DID WE LEARN FROM NOVEMBER?
As it pertains to movies that took a chance on movie theaters, HOUSE OF GUCCI is far and away the highest performing drama film released since the COVID-19 pandemic. This comes less than tw0 months after Ridley Scott's other theatrical endeavor of 2021, THE LAST DUEL. Boasting a US$100m budget, the film has grossed DBO of just under US$10.9m and IBO of roughly US$19.4m and was quickly labeled a box-office bomb for 20th Century Studios. However, the analysis above makes it clear that the film has completely outshined any other November drama when it comes to streaming. Furthermore, while KING RICHARD's performance was never on par with THE LAST DUEL, it was still able to similarly separate from the other three3 films and garner more impressive home viewing stats. Why?
With the advent of big concept blockbusters like "The Fast and the Furious" franchise or the Marvel Cinematic Universe, merely having a movie star has become less and less of a necessity for high viewership. However, there is an argument to be made that in the world of fact-based dramas, there is still merit in pursuing household names to headline a film. HOUSE OF GUCCI's roster includes global music icon Lady Gaga in a potentially Oscar winning performance, perennial leading man Adam Driver, and award-winning veterans like Jared Leto and Al Pacino. While THE LAST DUEL has proven to be a failure in theaters, its similar inclusion of Adam Driver, this time going toe to toe with the likes of Matt Damon and Ben Affleck, has clearly been a driving force in its 2nd life on streaming services. KING RICHARD also features what many publications are predicting as the current favorite pick for a "Best Actor" award and first career Oscar for blockbuster titan Will Smith.
Meanwhile, SPENCER, THE EYES OF TAMMY FAYE and TICK, TICK…BOOM! showcase highly regarded performances by Kristen Stewart, Jessica Chastain and Andrew Garfield. While all three of these names represent well respected artists who have received critical acclaim in everything ranging from indie dramas to summer blockbusters, none can be considered to be as well-known as the aforementioned cast members. The December 13th announcement of potential winners at the 79th Golden Globe Awards to be held early in 2022 saw all three of these lead performances garner nominations. Unfortunately, and unlike those in THE LAST DUEL and KING RICHARD, these stars did not shine bright enough to pull home viewers away from more popcorn friendly offerings in November.
CONCLUSION: GUCCI – TO BE OR NOT TO BE
In considering the platform P&L and ROI analysis we see a film that may generate a loss. Yet having seen what other top talent can garner in strong OTT fare bodes well for HOUSE OF GUCCI in being able to hopefully outshine the "at home" results of THE LAST DUEL and KING RICHARD and break-even or generate a profit for the distributor and its investors.