NO TIME TO DIE – October Insights
Stream or Screen: MGM held off on potential sales to Netflix and Apple and released NO TIME TO DIE theatrically – Was this the right call?
Ever since Amazon's announcement on May 26th highlighting its intention to acquire MGM Studios for US$8.45b, questions have lingered regarding what that would mean for the future of the studio's crown jewel and marquee James Bond franchise. With the recent October 8th release of the latest and much delayed installment in the series, NO TIME TO DIE, we decided to provide some insight on how the pre-COVID-19 vs. present day projections for the film differ, along with our conclusions regarding the decision to fore-go a sale to a streaming giant and uphold a purely theatrical release.
How's it going so far?
As of October 25th, 2021, NO TIME TO DIE has grossed DBO of over US$120m and IBO of US$405m. The film is scheduled to open in China on October 29th, where it will compete with Warner Bro's. 2nd weekend of the much-anticipated HBO Max day and date release of the sci-fi epic, DUNE, which just surpassed US$41m in DBO during its weekend debut. NO TIME TO DIE is currently and understandably tracking to be a far cry of its two predecessors, SPECTRE and SKYFALL, which boasted worldwide cumulative figures of $881m and with $1.1b respectively.  In neither case, did James Bond have COVID-19 and closed theaters to combat. 
Green-Light Pre-Pandemic vs. Today
As Cinelytic has showcased in past insights, the most effective way to understand the relative value is to make sense of the underlying economics of the title in a pre vs. pandemic environment and then compare both to the actual value of the deal during these two drastically different time periods. Early reports from 2020 indicated that MGM had attempted to sell NO TIME TO DIE to both Netflix and Apple for around US$600m, a price that would come with a one-year license to stream the film. Apple seemed to be the only streaming service interested enough to counter with any actual figure, reportedly making an offer in the range of US$350m – US$400m for a 12-month agreement.
Looking at NO TIME TO DIE with an assumed budget of US$300m and additional global P&A costs of US$220m, we ran the title through our predictive module considering the 19 key attributes to run the AI output including budget, genre, rating, talent, IP value, etc. The resulting pre-pandemic domestic and international box office projections were respectively US$219.2m and US$476.3m. Considering all other media revenues inclusive of home video, television and ancillaries, along with all associated costs, the platform projected a global net revenue of US$583m and ROI of 94%.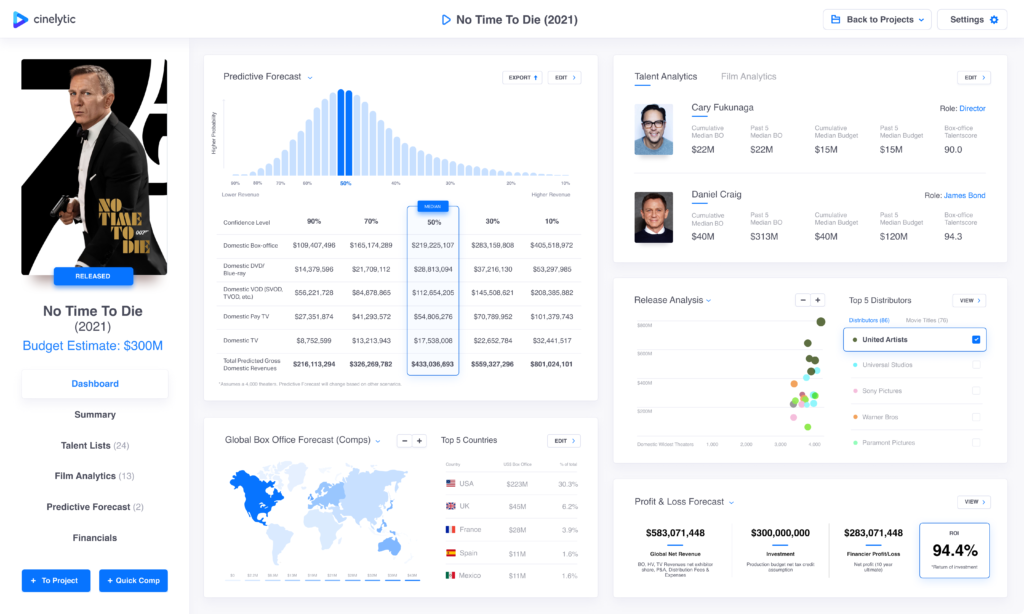 Similarly, the film was then run through the platform with the same budget and similar key attributes, albeit this time with US$340m in assumed global P&A costs due to the extensive delays associated with the film's release. The projected post-pandemic domestic and international box office figures were now respectively US$162.2m and US$449.3m. Once again considering all other media revenues and associated costs, the platform now projected a global net revenue of US$360m and ROI of 20%.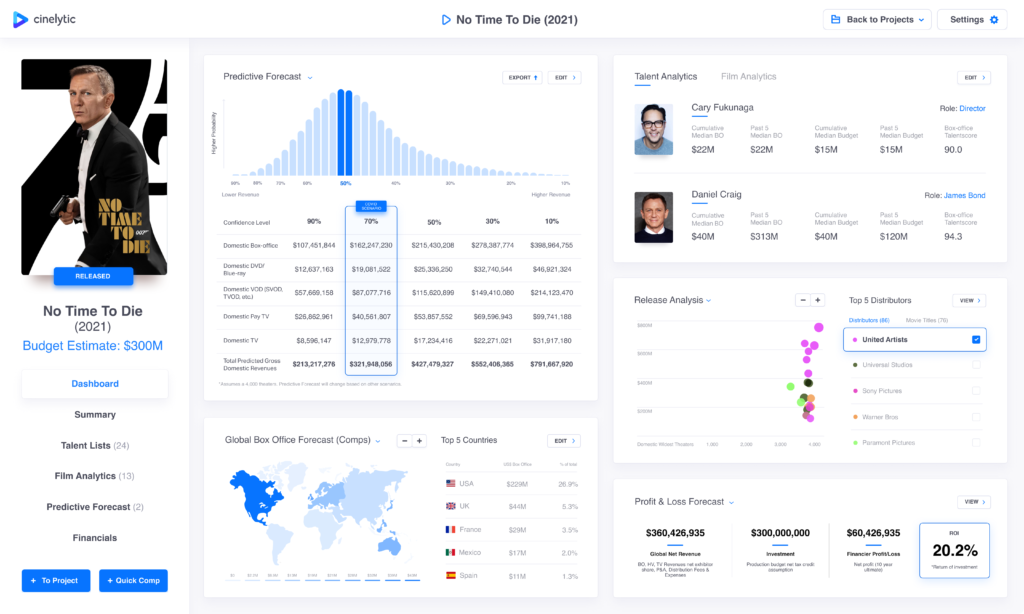 So…who was right?
The Cinelytic pre-pandemic projection indicate that MGM's price tag of US$600m was a fair ask against a budget of US$300m.  In this scenario, the film would have returned an ROI of 100%.   However, given the Cinelytic post-pandemic global net revenue projection of US$360.4m, Apple was also justified in offering a discounted purchase price during the pandemic of US$350m – US$400m. That being said, the conclusion can be made that MGM's ultimate decision to forego a sale and release the film theatrically was in the best interests of potentially not only MGM and Eon Productions, but the cinema industry as a whole.
If the film is to generate global revenues via theatrical distribution through United Artists and Universal that would be comparable to the price a streaming giant like Apple was willing to pay, the production companies had little incentive to move forward with a sale. As noted earlier, the James Bond franchise is the crown jewel in the MGM catalogue, and for Eon Productions, the franchise is a standalone business with a six-decade history. According to longtime James Bond producer Barbara Broccoli, Amazon will continue to ensure that future films in the franchise receive a theatrical release. As such, the success of NO TIME TO DIE means more than just breaking even from a financial standpoint; it needs to help ensure that James Bond remains as a character that consumers will make a point to go see on the big screen. While the box office numbers will likely continue to be viewed as "underperforming" as we near the end of year, it may still prove to be an effective enough plan to simply outperform other 2021 releases and help breathe life into the theatrical distribution industry.