April Insights from Cinelytic
Spider-Man, Batman, and the importance of theatrical windows
Traditional 90-day theatrical windows were common practice in the movie industry for decades, with exhibitors blocking any attempts to adapt to models that may be more friendly to modern consumers accustomed to the world of streaming. The global pandemic was a game changer – the movie industry had to maneuver around theaters being closed or restricted for what seemed to be countless months. During this time, audiences became more and more accustomed to consuming film content from the comfort of their own homes via a variety of OTT platforms. As a result of this, the latter half of the pandemic saw studios and distributors testing a variety of distribution strategies to maximize the number of consumers who viewed their products.
Warner Brothers, for example, was the first major studio to publicly commit to a "Day-and-Date" strategy and utilize their HBOMax service as a simultaneous viewing platform for a number of their most high-profile theatrical releases in 2021. Many traditionalists protested this approach, yet this is the type of adaptation that has allowed industry to test and determine which methodologies work best to maximize revenue streams. Straight to streaming, Day-and-Date, and shrunken theatrical windows ranging from 17 to 45 days all became viable methods for different types of films.
Cinelytic was at the forefront of this movement and began analyzing windowing strategies using our intelligence platform and proprietary OTT data. Based on the information gathered, we advocated that the industry was justified in considering a 45-day theatrical window for major releases, and alternatively should consider being flexible when deciding between Day-and-Date and straight to streaming for smaller scale titles.
Since COVID restrictions began lifting at a faster pace in Q4 2021, audiences have twice proven in a brief period of time that they are willing to return to cinemas in significant numbers if the scale and experience of the film is large enough. The proof of this came in the form of two major and long anticipated releases over the last five months: SPIDER-MAN: NO WAY HOME and THE BATMAN.
To date, the latest adventure for the web slinger has grossed US$804.3m domestically and US$1.9b worldwide, making it the highest grossing film of 2021, the sixth highest-grossing film of all time, and the highest-grossing film released by Sony Pictures. As for the caped crusader, Robert Pattinson's take on the iconic character has grossed US$367.7m domestically and US$754.3m worldwide for Warner Brothers, making it the highest-grossing film of 2022.
Both of these titles were released following differing strategies, with SPIDER-MAN: NO WAY HOME deploying a traditional 90-day theatrical window, and THE BATMAN settling on the shrunken 45-day window that is being teased as a potential new industry standard.
Success on streaming: Which window is best?
To evaluate and compare the streaming performance of these two box office success stories, we used our proprietary OTT demand data. This data captures 125m daily P2P transactions globally for a yearly total of 35b transactions. For this exercise, we utilized this data to compare the first seven days of streaming performance for both titles: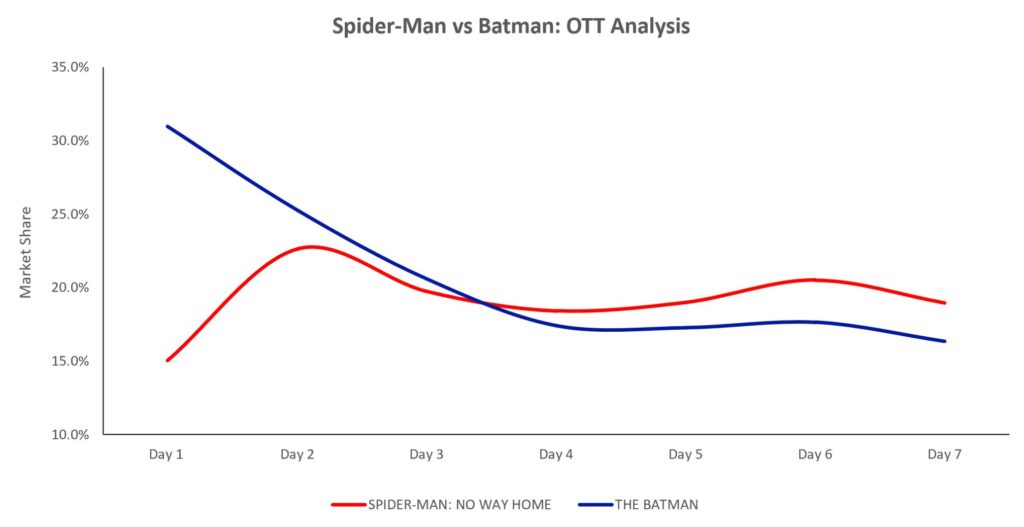 SPIDER-MAN: NO WAY HOME clearly outperformed THE BATMAN at the box office, however our OTT data demonstrates that the opposite may be concluded when it comes to both titles' initial runs on home viewing. As shown in the graph above, SPIDER-MAN: NO WAY HOME did reach an impressive peak of just under 23% of the market share amongst all competing OTT options on its second day. THE BATMAN, on the other hand, opened to over 30%, and both titles began to plateau between 18 – 19% on the third day.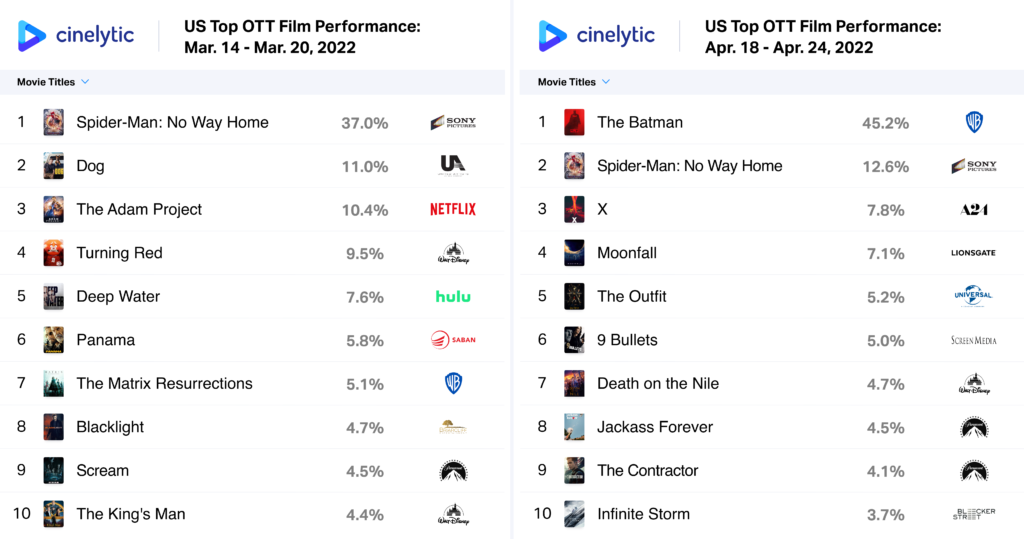 The two tables above highlight overall OTT viewing amongst the Top 10 performing titles in each film's respective first week of streaming. As presented, THE BATMAN's total viewing numbers and share of the viewing market was higher than that of its main competitor. This triumph becomes even more impressive when one compares the other top titles each of these films was contending with throughout their initial runs. Other than THE ADAM PROJECT, which is now reported as being the fifth most watched film on Netflix, the other top viewed films SPIDER-MAN: NO WAY HOME was up against with during its first week of streaming availability were either of a lower profile (DOG, BLACKLIGHT, CYRANO, TURNING RED) or dated (THE MATRIX RESURRECTIONS, THE KING'S MAN, GHOSTBUSTERS: AFTERLIFE). THE BATMAN was able to retain the dominance exhibited in the graph above despite sharing streaming space with more recent and high-profile crowd pleasers like MOONFALL, X, THE OUTFIT, JACKASS FOREVER and DEATH ON THE NILE. This data normalizes VOD vs SVOD release types and expresses pure consumer demand for a title without platform bias. Therefore, this accomplishment on streaming by THE BATMAN can be clearly interpreted as a consumer vote or the 45-day window. As seen when analyzing this data with numerous titles in the past, this shrunken window strikes an effective balance for a title to both maximize box office performance and remain in the consumer zeitgeist so that a large number of consumers will be eager to watch the film once it is made available at home, whether it be for the first time or a re-watch.
Sony Pictures: The outlier
Sony Pictures, which has vowed to protect theatrical exclusivity, is the only major Hollywood studio that does not offer an accompanying streaming service. Instead, in 2021 it committed to a multiyear and exclusive first pay licensing deal with Netflix. For this reason, the decision to maximize the amount of time their tentpole films spend in theaters is justifiable. The 45-day theatrical window is especially crucial for all the other major studios in the industry that own their own streaming services and want to maximize their subscriber base. Executed upon in just the last two years, the plan by Warner Brothers / HBOMax to shift from Day-and-Date to a 45-day window strategy for their major titles has been a clear success in that regard, as the service gained 3 million subscribers in Q1 2022. By making high profile releases available early, HBOMax placed increased pressure on "streaming only" players like Netflix, which as was widely reported lost 200,000 subscribers in that same time period, with significantly more losses projected in the upcoming quarter.
All this is to say that windowing matters. Cinelytic is confident in our original conclusion that a 45-day theatrical window is most effective for large tentpole releases, and studios should be slightly more flexible with even shorter windows, Day-and-Date or straight to streaming when it comes to lower or medium budget films. "Content is King" is an often-cited quote in the film industry, and while the quality of a film library will always ultimately determine the long-term success of a studio or streaming platform, mastering a release strategy is the most important lever to maximize the potential of that content.