May Insights from Cinelytic
The "Summer Blockbuster" season: Poised for a comeback
The term "Summer Blockbuster" was coined between the mid-1970's and mid-1980's when Steven Spielberg and his friend George Lucas introduced the world to timeless films such as JAWS, STAR WARS, RAIDERS OF THE LOST ARC and E.T. In the modern era, it has become common practice for audiences to expect the most high-profile releases of the year to take place during what is now the regular summer movie season, which runs from May through early September. This season regularly produces over US$4b in revenue and accounts for about 40% of the year's total grosses. In 2020, with the world experiencing aggressive shutdowns due to a crippling pandemic, summer earnings totaled less than US$180m, a figure that improved to only US$1.9b in 2021.
While the immense success of SPIDER-MAN: NO WAY HOME was seen as a welcome lifeline for a drowning industry, studio executives and analysts were cautiously aware that one blockbuster triumph wouldn't be enough to remedy a 2-year run of negative headlines and financial losses. Fortunately, just over two months later, THE BATMAN served as Warner Brothers' first exclusive theatrical release in over a year and the first runaway success at the box office in 2022, representing a potential turning point for the industry and a much-needed confidence boost for major movie studios.
Will this momentum carry into the summer?
Major studios are anxiously hoping to realize the types of financial returns that have escaped them for the past two years and that they had previously grown accustomed to during past summer seasons. We at Cinelytic analyzed the four blockbuster titles looking to capitalize on the upcoming season and forecasted them on our platform, highlighting Walt Disney Studios' latest addition to the Marvel Cinematic Universe, DOCTOR STRANGE IN THE MULTIVERSE OF MADNESS, to showcase what the summer of 2022 may have in store. Utilizing an estimated budget of US$200m, global P&A costs totaling an additional US$200m, and 19 key attributes to run the AI output including budget, genre, rating, talent, IP value, etc., the platform projects DBO of US$390 and IBO of US$485m in the base case median scenario. In addition, the Cinelytic platform is capable of predicting Home Video and TV revenue ultimately based on real data: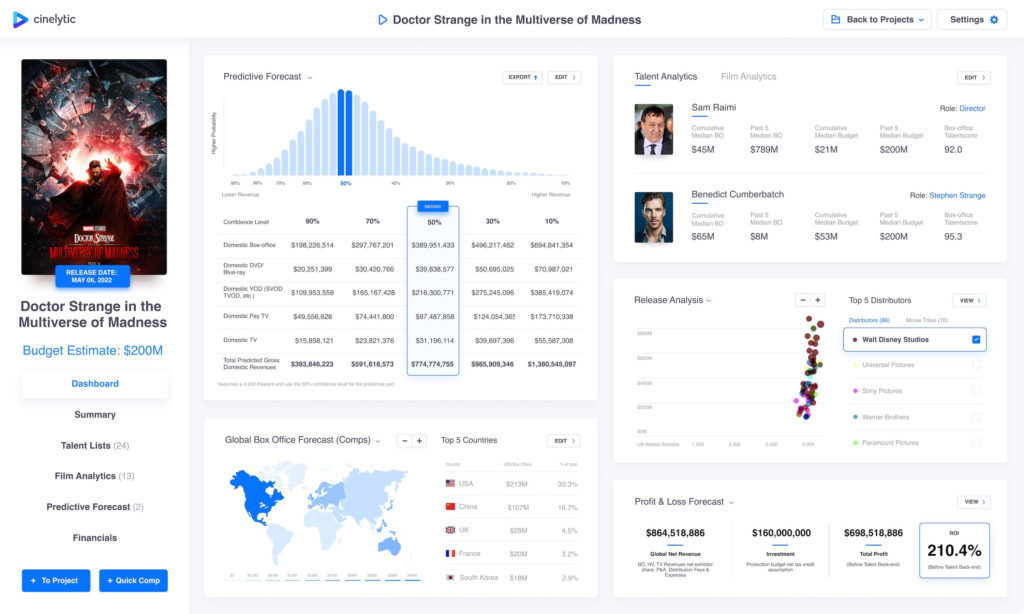 Based on the anticipated global net revenues (including BO, HE, TV net of distribution fees and expenses), the film is projected to result in a substantial return for the studio, with a projected ROI of 210.4% before the talent back-end, which can be substantial. However, to make sense of this forecast, one needs to understand the same analyses for the three other comparable titles soon to appear in the market. Is this high ROI indicative of what to expect for the major releases over the next three months? To try and help answer this question, we used the Cinelytic platform to also run projections for TOP GUN: MAVERICK, JURASSIC WORLD DOMINION, and THOR: LOVE AND THUNDER, all of which will also be made available to moviegoers between May and July. The table below outlines the results output by the Cinelytic platform: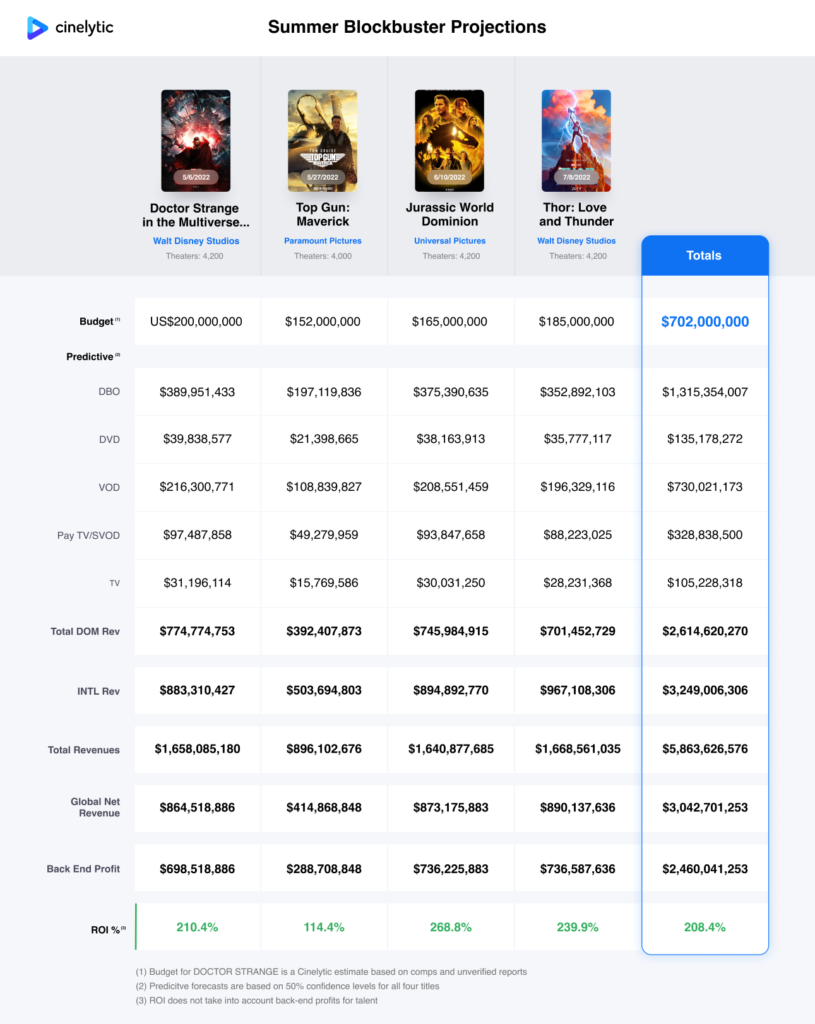 As shown above, the three additional titles are projected to result in impressive returns, and all four titles showcase an average ROI of 208.4%. While still displaying impressive figures, the outlier in this group is undoubtedly TOP GUN: MAVERICK, which showcases a projected ROI of 114.4% before talent back-end. Unlike the other three titles, this nostalgia targeting sequel is not part of a powerful cinematic universe that has proven itself in recent years with dominating box office triumphs. Between them, the Marvel Cinematic Universe and Jurassic Park franchise have produced 12 titles since 2008 that have surpassed US$1b of worldwide box office, the vast majority of which of course being attributed to Marvel.
While the original TOP GUN film was a phenomenon when released by Paramount Pictures in 1986, today's younger audience may not feel the same desire as the older demographic to revisit its storyline and characters. Despite this, Tom Cruise has proven that he can still be a bankable star when tied to a franchise that he has already put his stamp on. The ongoing MISSION: IMPOSSIBLE film series has been revitalized over the last decade, with its last three releases totaling roughly US$2.2b in worldwide box office gross. Through the combination of his involvement in the sequel and other marketable factors like the groundbreaking IMAX techniques being used for flight sequences, TOP GUN: MAVERICK may have a chance to collect its fair share of ticket sales from the resurgence of the summer movie season.
Blockbusters at home
As highlighted in last month's Insights, mastering a release strategy is the most important lever for a studio to fully realize the potential of its content, and Cinelytic's proprietary OTT demand data indicates that a 45-day theatrical window may be the optimal choice for high budget tentpole titles as it pertains to streaming. Walt Disney Studios has given no formal indication as to what theatrical window they will apply to DOCTOR STRANGE IN THE MULTIVERSE OF MADNESS and THOR: LOVE AND THUNDER. The studio has been flexible and operating on a case-by-case basis, and a number of their major titles since the summer of 2021 have had theatrical windows that varied between roughly 45 and 80 days. Universal Pictures also seems hesitant to officially commit to a 45-day window for its upcoming and high-profile projects. The studio recently struck a new licensing agreement with Peacock for their 2022 slate that will see several titles like the romantic comedy TICKETS TO PARADISE, the latest Blumhouse horror film THE BLACK PHONE, and DOWNTON ABBEY: A NEW ERA made available exclusively on Peacock as early as 45-days after theatrical release. Despite this, as of now, major tentpoles such as JURASSIC WORLD: DOMINION, MINIONS: THE RISE OF GRU and Christopher Nolan's ensemble historical epic OPPENHEIMER are not expected to fall in the 45-day plan.

On the other hand, Paramount Pictures has been more consistent as it pertains to their strategy. Recent and exclusive theatrical runs for SCREAM, JACKASS FOREVER and SONIC THE HEDGEHOG 2 were all pegged to be made available on Paramount+ 45 days after their original release dates. As Cinelytic continues to track streaming performance for major blockbuster films, it will be interesting to examine how each studio's windowing decision affects the ability to strike the best balance between ticket sales and a title's subsequent performance amongst other home viewing options. This will be particularly interesting for the three studios emphasized in this analysis that own streaming services and understandably must prioritize maximizing subscriptions.
A welcome return
The last two years have provided few means of enjoyment and escape from a seemingly constant barrage of negative news around the world. During this same time frame, movie studios were forced to sideline most of their largest spectacle titles. However, as the world edges closer and closer to a sense of normality, as altered as it may be, summer movies are capable of once again providing such an escape and an excuse to spend a couple of hours being transported into another world. As proven by a pair of recent superhero releases that have boasted ticket sales on par with and exceeding many historical blockbuster success stories, audiences are more than willing to make "a night at the movies" part of their lives again. As such, the summer of 2022 presents a highly lucrative opportunity for three major studios to capitalize on being at the right place at the right time in regard to their upcoming slate.