June Insights From Cinelytic
The summer animated release slate: Getting famlies back to the theater
Last month, Cinelytic Insights dove into the first true "Summer Blockbuster" season since 2019. We ran projections on the four most high-profile live action films being released between May and July and discussed how the studios behind them were poised to capitalize on perfect timing to help precipitate a return to theatrical viewing that was catalyzed by SPIDERMAN-MAN: NO WAY HOME and THE BATMAN. Since our last Insights, three of our analyzed titles (DOCTOR STRANGE IN THE MULTIVERSE OF MADNESS, TOP GUN: MAVERICK and JURASSIC WORLD DOMINION) have been released to considerable and worldwide box-office success, respectively earning US$932.5m, US$763.1m and US$420.0m to date.
While teenagers and adults have been more than willing to return to cinemas to view these blockbusters in person, G/PG rated family films have found it difficult to garner comparable attention since the end of 2021. Despite the COVID-19 pandemic being pushed further and further into the world's rear view, many parents have remained understandably selective in what films they chose to take their kids to, a fear that is of course remedied by the seemingly endless selection of family-friendly content available at home. In fact, no family-oriented title released after 2019 has grossed more than US$200m at the domestic box office.
However, just this last April, we saw back-to-back releases of two animated features that exceeded many expectations and resulted in substantial returns for two major studios. Paramount's SONIC THE HEDGEHOG 2 came close to the aforementioned threshold with US$190.1m domestic and US$397.9m worldwide to date. Just a couple of weeks after that, Universal's animated heist comedy THE BAD GUYS released to US$92.6 domestic and US$229.9m worldwide. The success of these PG titles is a potential signal that upcoming releases like Pixar's LIGHTYEAR, Universal's MINIONS: THE RISE OF GRU and Warner Brothers' DC LEAGUE OF SUPER-PETS will represent the first true family friendly theatrical releases that achieve the pre-pandemic box office numbers that were previously expected for animated features of this scale.
Blockbusters: Will animation rebound like live action?
In order to support that claim, we at Cinelytic analyzed the three notable and upcoming animated titles looking to capitalize on the momentum induced by live action blockbusters over the past six months. We highlighted the June 17th release of Walt Disney Studios and Pixar's latest addition to the TOY STORY franchise, LIGHTYEAR, to showcase what the summer of 2022 may have in store for the family friendly film market. Utilizing an estimated budget of US$200m, global P&A costs totaling an additional US$220m, and 19 key attributes to run the AI output including budget, genre, rating, talent, IP value, etc., the platform projects DBO of US$225m and IBO of US$313m in the base case median scenario. In addition, the Cinelytic platform is capable of predicting Home Video and TV revenue ultimately based on real data: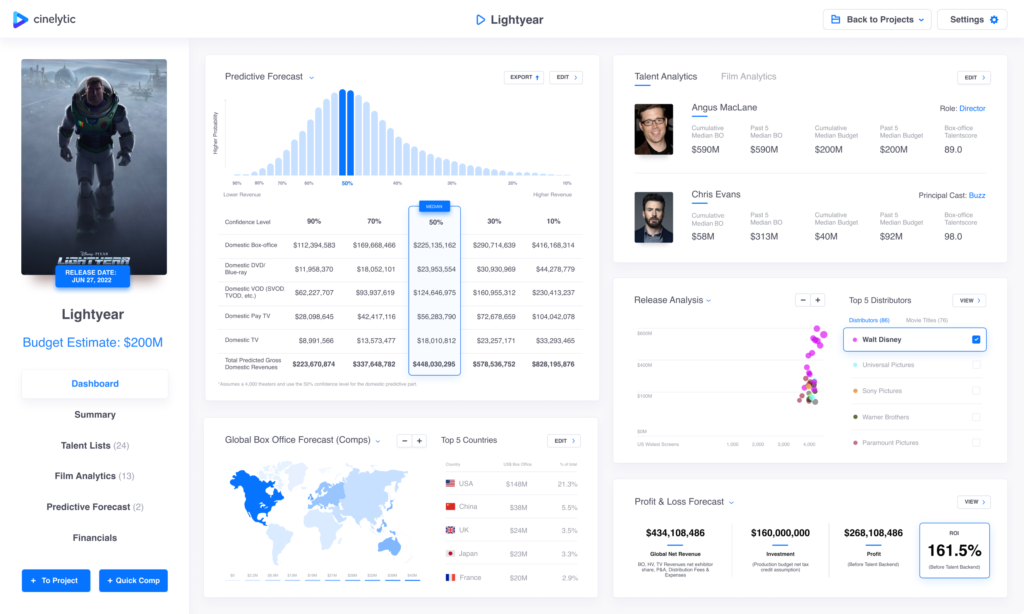 Based on the anticipated global net revenues (including 10 year "ultimates" that encompass BO, HE, and TV net of distribution fees and expenses), the film is projected to result in a highly respectable return for the studio, with an ROI of 161.5% before the talent back-end, which can be very substantial. However, to make sense of this forecast, one needs to understand the same analyses for the other comparable titles to be released in the following month: MINIONS: THE RISE OF GRU and DC LEAGUE OF SUPER-PETS. The table below outlines the results output by the Cinelytic platform: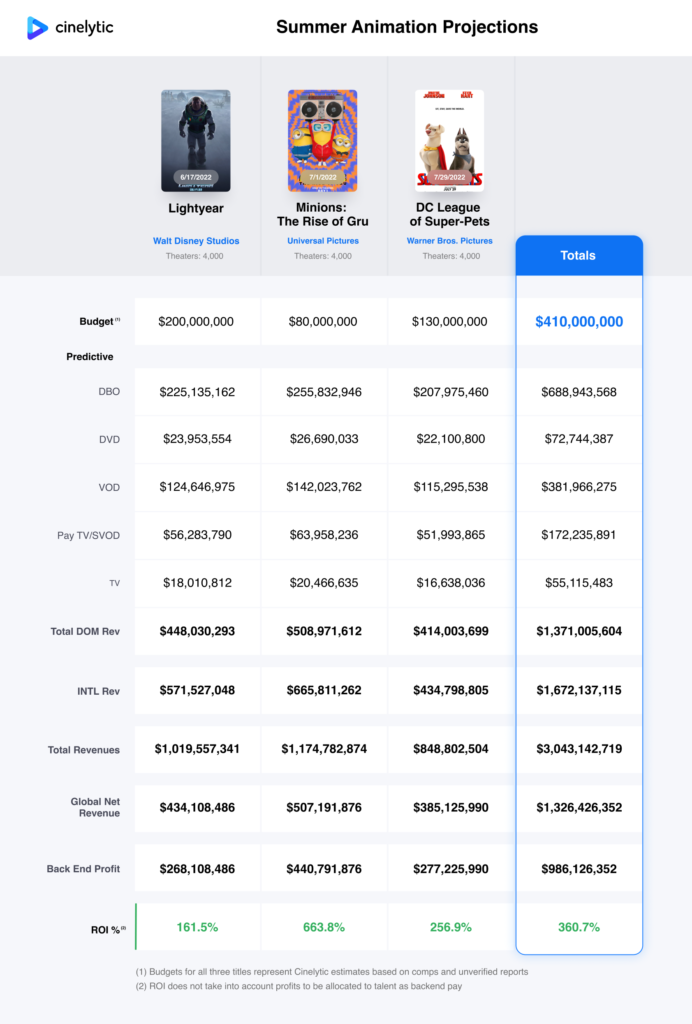 As shown above, the two additional titles are also projected to result in impressive returns, and all three titles showcase an average ROI of 393.5%. LIGHTYEAR's reported budget of US$200m is the highest in this comp set. This clearly plays a role in its lower projected return, along with the realization that the title is considered a spinoff and not a direct sequel in the franchise, and thus may not reap the same benefits of other TOY STORY films. Warner Brothers' DC LEAGUE OF SUPER-PETS is projected to result in similar returns with a projected ROI of 256.9%. Based on the DC Comics superhero team the "Legion of Super-Pets", this film does not have the luxury of being directly associated with an already established brand or fan base like its two competitors. That being said, it is being helmed by veteran animation writer Jared Stern (THE LEGO BATMAN MOVIE, THE LEGO NINJAGO MOVIE) and boasts a voice cast that is arguably the most prestigious of these three titles, including lead performances by Dwayne Johnson and Kevin Hart and support from Jon Krasinski and Keanu Reeves, among others.
The outlier is clearly Universal's MINIONS: THE RISE OF GRU, which looks by far to be the most lucrative venture among these titles and boasts a 663.8% ROI projection. This figure is understandable when one looks into the past releases of the DESPICABLE ME cinematic universe. The four titles in that franchise have averaged US$74.8m in budget and US$927m in global box office performance.
A lucrative summer continues
The resurgence of live-action films in movie theaters has proved that difficult times once again lent themselves to a desire from consumers to escape. Obviously, the last people who were going to be granted that opportunity in the aftermath of the pandemic were always going to be children, as parents have been justifiably hesitant to expose their families to any unnecessary risks. However, the accomplishments of the numerous live-action blockbuster films that have released since November of last year, coupled with the success of two family oriented titles that opened just two months ago, demonstrate that major studios are likely warranted in their confidence in full theatrical release strategies for their major animated projects.
Looking at the Top 20 films in regard to global box office performance in each of the three years preceding the onset of the COVID-19 crisis (2017-2019), it's clear that animation has played a pivotal role in this industry and has often showcased some of the most impressive returns. Of these 60 films, 16 are G/PG rated titles with animated elements catering to young children and families. The average budget amongst these films was roughly US$160m, while the average worldwide box office gross was about US$847m. Furthermore, 7 of these same animated features surpassed the coveted global box office threshold of US$1b. The other 44 films on this list averaged a higher budget of US$176m and lower global box office of US$827m. This is all to say that major studios may once again and soon have the ability to attach the "blockbuster" label to the animated genre, representing yet another step forward for the film industry in its quest to ensure the survival of the movie theater business.