March Insights from Cinelytic
Does a Best Picture Nomination Mean Anything To OTT?
With the February 8th announcement of the 10 Best Picture nominees at the Oscars, it became immediately clear that the October day-and-date release of the sci-fi epic DUNE was the only title amongst the selection that garnered significant attention in movie theaters, with a domestic cume of US$108m. No other Best Picture nominee has come close to approaching even half that figure, with the second-highest grosser, WEST SIDE STORY, generating US$38m domestically.
However, box office does not necessarily drive Oscar votes. It has been quite some time since a true box office performer won Best Picture at the Oscars. In the five years preceding the start of the pandemic in 2020, consider the middle tier box office performers that took home the same top prize: SPOTLIGHT, MOONLIGHT, THE SHAPE OF WATER, GREEN BOOK and PARASITE. These five titles averaged US$55m in domestic box office, beating out the likes of THE MARTIAN, LA LA LAND, DUNKIRK, BLACK PANTHER and 1917, all of which grossed well over US$100m domestic.
What about streaming?
While box office triumphs may not translate to success on awards night, a Best Picture Oscar nomination does in many cases effectively attract new streaming viewers to a previously released title. Even as the pandemic continues to wind down, its aftereffects give streamers an advantage since many moviegoers would still rather watch "Award titles" at home as opposed to a crowded theater. In fact, three out of the 10 Best Picture nominees did not report theatrical grosses because streaming was their primary method of distribution (CODA, THE POWER OF THE DOG and DON'T LOOK UP).
According to Netflix, after THE POWER OF THE DOG was named as having the most Oscar nominations this year with twelve, the title made a return to Netflix's Top 10 most watched films for the week that followed. Additionally, the star-studded political satire DON'T LOOK UP, which earned four Oscar nominations, remained in the Netflix Top 10 for the eighth straight week since debuting in late December. It now ranks as the 2nd most watched film in the streamer's history for most hours watched, surpassed only by the Dwayne Johnson, Gal Gadot and Ryan Reynolds led action movie RED NOTICE.
To understand the full picture of streaming performance of all the Best Picture nominees, we used our proprietary OTT Demand Data to analyze the 10 films campaigning for Best Picture: BELFAST, CODA, DON'T LOOK UP, DRIVE MY CAR, DUNE, KING RICHARD, LICORICE PIZZA, NIGHTMARE ALLEY, THE POWER OF THE DOG, WESTSIDE STORY. This data captures 125m daily P2P transactions for a yearly total of 35b transactions, and the best metric pulled from this information is the representative market share a title holds against all titles in release.
In our first set of analyses, we took the month following the announcement of the nominations and ranked how these particular films competed against all films in release and found that LICORICE PIZZA, DUNE, NIGHTMARE ALLEY and WESTSIDE STORY set themselves apart from the remaining six Oscar hopefuls as the only Best Picture nominees to break into the Top 20.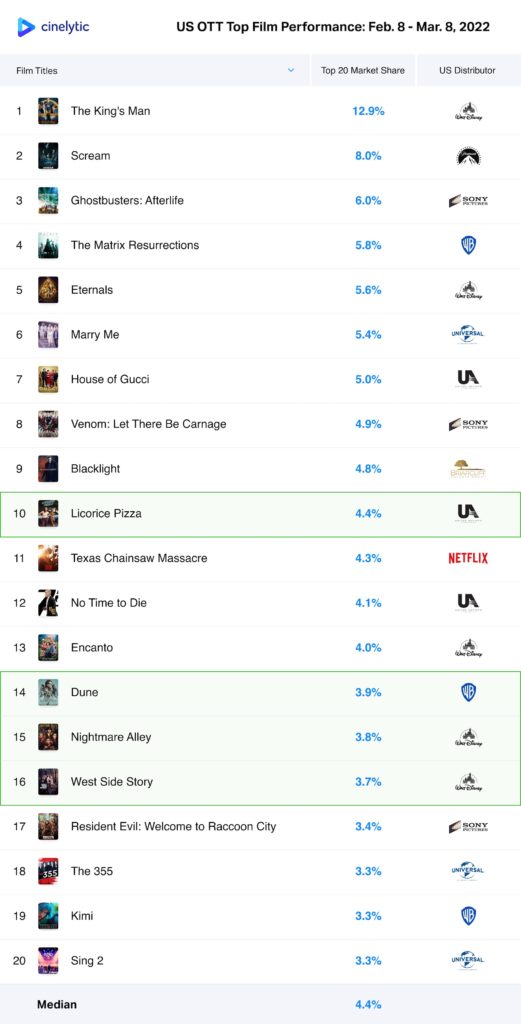 Furthermore, when compared against the 10 Best Picture nominees, these same four titles generated a median market share percentage of 15.3% for the chosen date range. The same metric for the balance of the six titles was materially lower at 6.5%.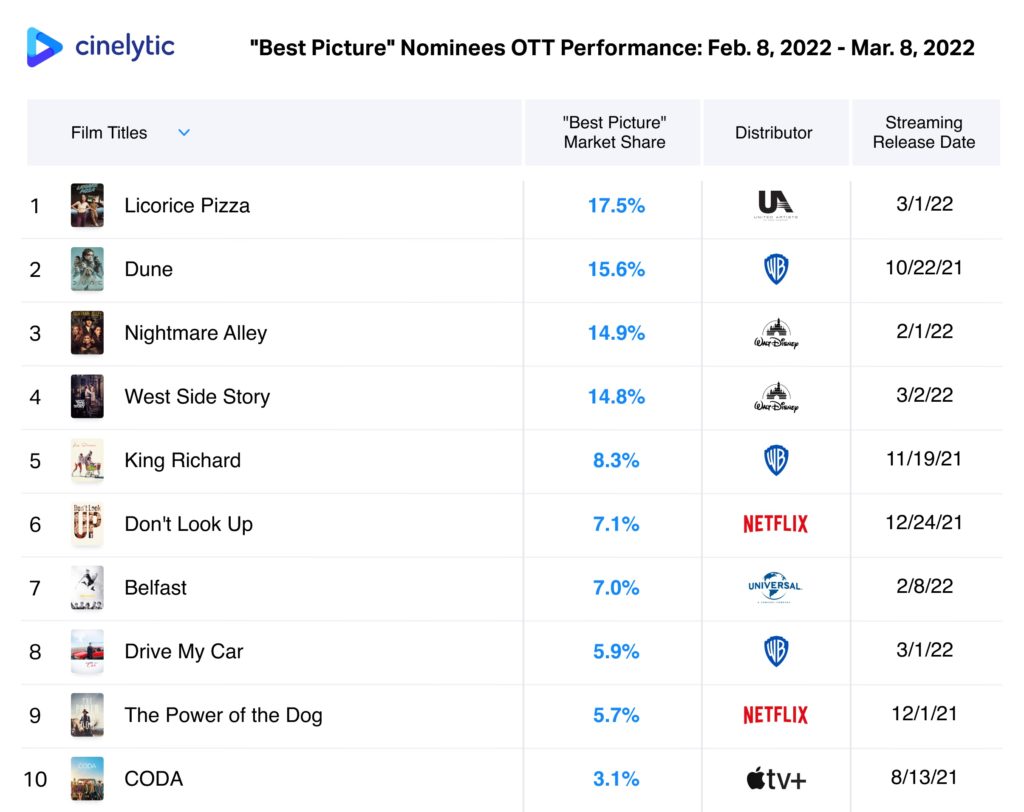 To fully understand the demand landscape for these titles, not only have we looked at how nominations impacted demand, but also reviewed the 1st seven days of P2P consumption for each title from their first day of OTT release.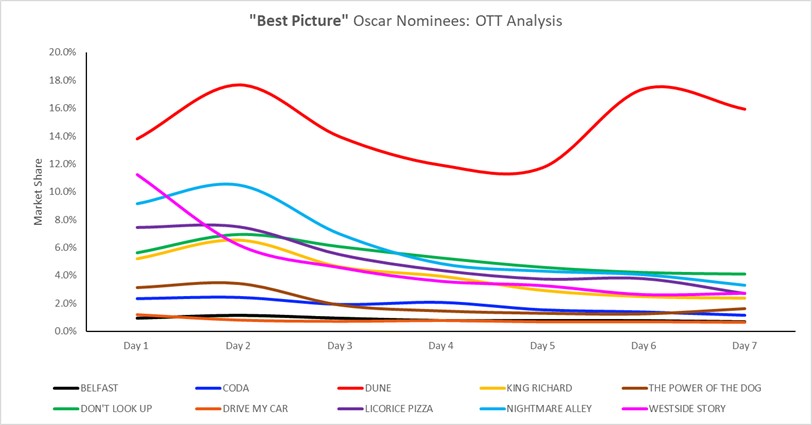 The graph above allows us to view four distinct groups. Denis Villeneuve's long-awaited adaptation of DUNE is expectedly in a league of its own as a mass appealing blockbuster in the truest sense of the word, flaunting a US$165m budget, star studded cast, and source IP with an already established fanbase.
In the next grouping, we see NIGHTMARE ALLEY, WESTSIDE STORY, LICORICE PIZZA, DON'T LOOK UP, and KING RICHARD. All five of these titles similarly boast a mix of offerings that appeal to mass audiences, whether it be cast (Will Smith, Leonardo DiCaprio, Jennifer Lawrence, Meryl Streep, Bradley Cooper), director (Steven Spielberg, Guillermo Del Toro, Paul Thomas Anderson, Adam McKay), and in the case of WESTSIDE STORY, the added boost of renowned source IP.
Next, we have THE POWER OF THE DOG and CODA, both of which were released with almost a complete focus on streaming. These prestige dramas are more subtle, moving, and intellectual in comparison to their more commercial peers, and it's no surprise that they haven't garnered the same home viewing attention that many of the other nominees have. Finally, we have DRIVE MY CAR and BELFAST. Both titles feature foreign casts and highlight stories unique to the countries from which they hail (Japan and Ireland), and thus will find more success in home viewing overseas.
What does this all mean?
As stated above, box office success does not necessarily translate to a golden statuette on Oscar night. What we do see is that marketing attention surrounding Oscar titles does impact home viewership. This year, nomination announcements aided at least four of the films vying for Best Picture increase their home viewing reach. Additionally, by reviewing the 1st seven days consumption performance of each nominee we can understand how budget, IP, cast and platform all contribute to a title's streaming success. In this case, a top IP title with a material budget and cast that is released on a sophisticated platform truly reached its intended target. We can also see how middle tier budget titles performed to middle tier consumption. Looking at the smaller indie fare with compelling stories and execution, it's evident that both releases played similarly on important streaming platforms. Lastly, those with smaller recognition and a focus on foreign stories had more limited exposure and could have benefited from a release on larger platforms. Most importantly, we have a way to bring all this data together to you the user with an API. Connect via the link below to learn more about you can benefit and stay ahead of the game.