February Insights From Cinelytic: Will original content stage a comeback in 2022?
Of the 50 highest grossing films in cinema history as it relates to the domestic box office (not adjusted for inflation), only 10 are based on original IP. This is not so much suggestive of what original films can accomplish, but serves as a telling reminder that the road to success is one fraught with global juggernauts boasting established and loyal fanbases, cinematic universes, and proven concepts.
Filmmakers who attach themselves to these universes are rewarded with an enhanced reputation due to their work on such a recognizable brand, but their creativity can also be limited as a result. For writers or directors who are not accustomed to servicing someone else's vision, this may be challenging, as the pursuit of truly original work often results in less confidence and support from studios and financiers.
As the table below shows, 2021 displayed a pattern that resembled historical figures, with only two truly original films breaking into the Top 20 in the form of Walt Disney Studios' FREE GUY and ENCANTO: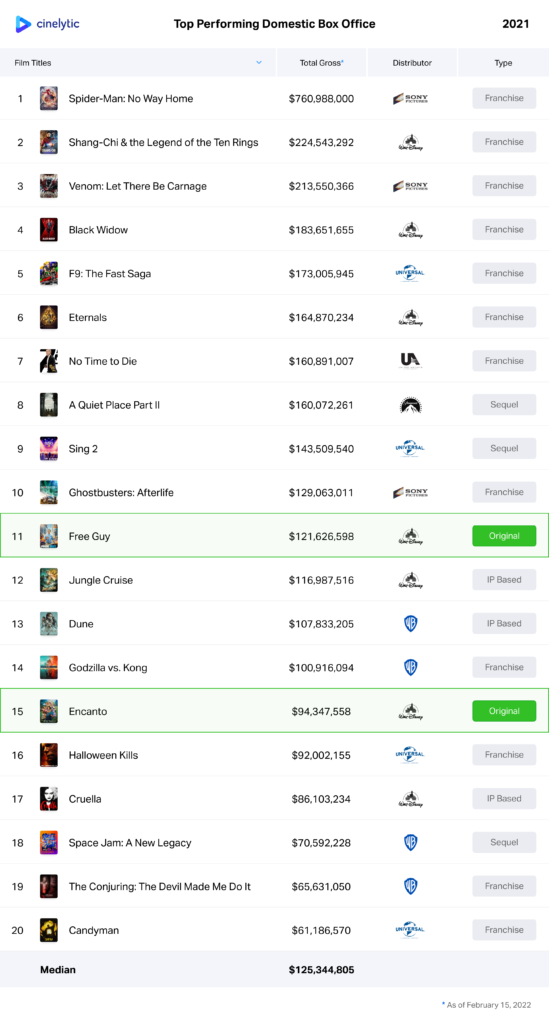 Domestic box office revenue rose to US$4.5b in 2021 as the theatrical business struggled to recover from the COVID-19 crisis. While that was up more than 101% in comparison to 2020, it still significantly trails pre-pandemic levels and was 60% behind 2019.
While 2021 certainly appeared to lack strong original content released theatrically, that pattern may seemingly change upon analysis of the 2022 release calendar. We at Cinelytic picked some of the most anticipated original titles and forecasted them on our platform, highlighting Focus Features' upcoming April 22nd release of THE NORTHMAN to showcase what original IP has in in store for 2022. Utilizing the reported budget of US$60m, global P&A costs totaling an additional US$50m, and 19 key attributes to run the AI output including budget, genre, rating, talent, IP value, etc., the platform projects DBO of US$44.2m and IBO of US$32.5m in the base case median scenario. In addition, the Cinelytic platform is capable of predicting Home Video and TV revenue ultimately based on real data: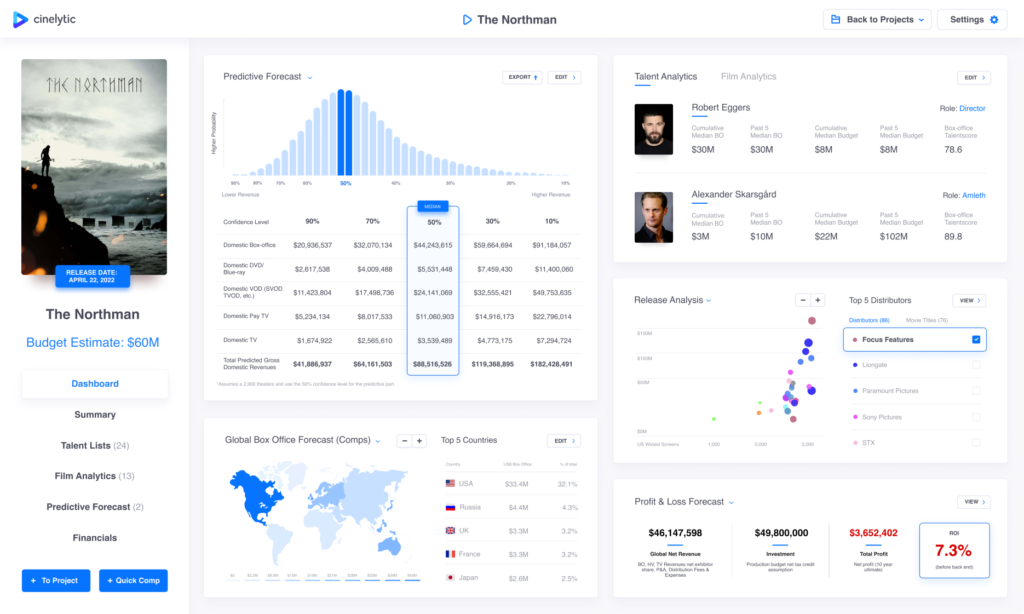 Based on the anticipated global net revenues (including BO, HE, TV net of distribution fees and expenses), the film is projected to result in a small loss for the studio, which may be justifiable given the polarizing subject matter, arthouse style approach and historical performance of director Robert Eggers. However, to make sense of THE NORTHMAN'S projected ROI, one needs to understand the same analyses for other original titles soon to appear in the market. Is the ROI indicative of what to expect for original IP, or do these titles have a chance to reach the vaunted returns of sequels, prequels and the like? Using the Cinelytic platform, we also ran projections for BULLET TRAIN, NOPE, THE MAN FROM TORONTO, CANTERBURY GLASS, and BABYLON. The table below outlines the results output by the Cinelytic platform: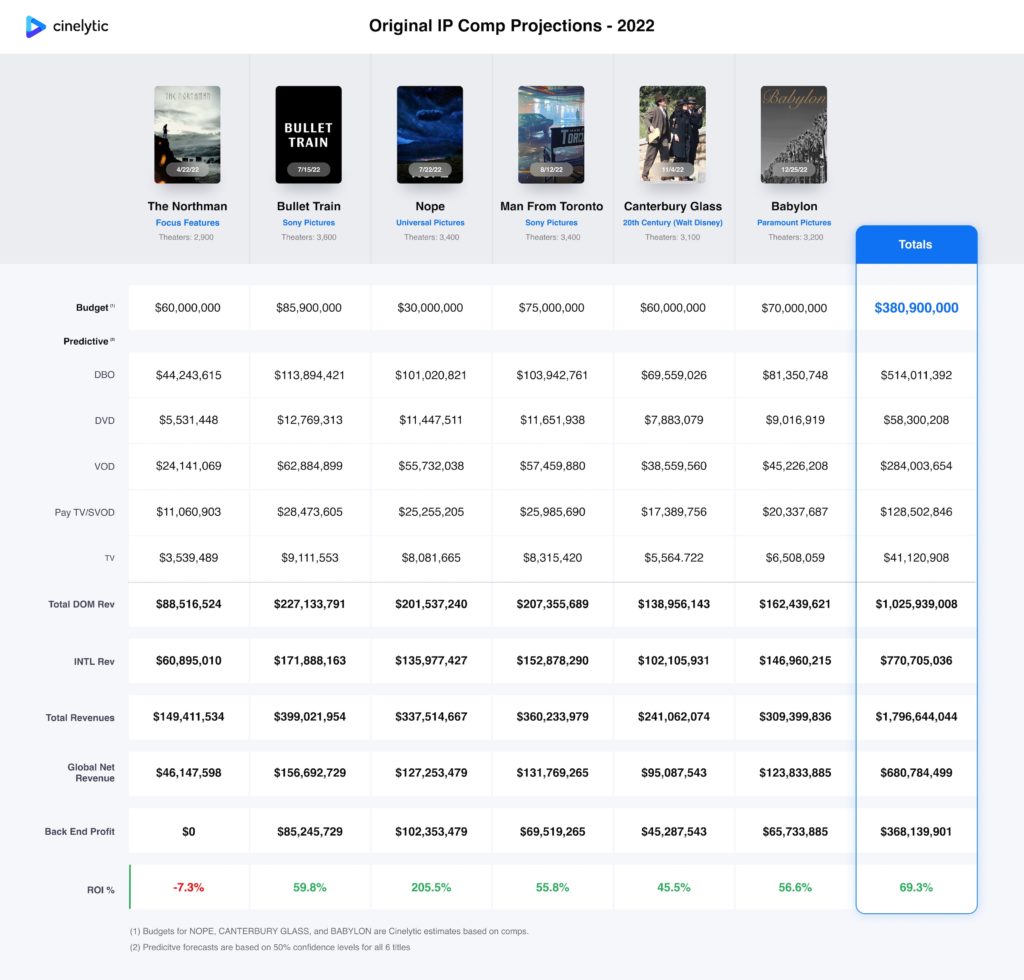 As shown above, these five additional titles that were analyzed are all projected to result in respectable returns, and all six titles showcase an average ROI of 69.3%. Unlike THE NORTHMAN, four of these remaining films all boast star studded casts with established and bankable movie stars. BULLET TRAIN, which features Brad Pitt and Sandra Bullock, is forecasted to achieve the highest revenues, resulting in a total ROI of 59.8% that takes into account the US$90m production budget and global P&A expenses of US$100m. Meanwhile, Jordan Peele's upcoming science-fiction horror endeavor NOPE, which has a relatively lower budget and the highest expected ROI of 205.5%, will likely cater to the largest overall audience due to title's genre and Peele's "must see" status as a director.
Do Originals Have Hope?
Younger audience members (namely males) between the ages of 18 and 34 deserve most of the credit for any theatrical resurgence, while those above the age of 35 have been more reluctant to return to cinemas. 2021's continued focus on theatrical franchise releases was seemingly justified as the films that have youth appeal are indeed those that helped theaters weather the post-COVID storm.
Franchise titles are not going anywhere, and 2022 has over 20 titles with planned releases through December with characters and stories that will be all too familiar to moviegoers around the world. Some of these upcoming titles of course include THE BATMAN, MORBIUS, DOCTOR STRANGE IN THE MULTIVERSE OF MADNESS, TOP GUN: MAVERICK, JURASSIC WORLD: DOMINION, THOR: LOVE AND THUNDER, BLACK PANTHER 2, AQUAMAN AND THE LOST KINGDOM, and AVATAR 2.
However, there is a high probability that the more mature demographic will return to cinemas as COVID continues to retreat. In order for that to happen, the films targeting them as audience members must once again begin receiving attention amongst exhibitors, as opposed to being marked solely for straight to streaming releases. The projections summarized above, coupled with continuously declining COVID cases, seem to indicate that this resurgence of originality is possible and probable, but both filmmakers and the companies that back them will have to wait and see.