April Insights by Cinelytic: WarnerMedia Wins with Godzilla v. Kong Day & Date Strategy
As soon as the dust settled on the monster opening weekend of Godzilla vs. Kong an explosion of articles appeared proclaiming that audiences are back in theaters!!! As no universally accepted metric exists for streaming releases the focus fell entirely on the traditional theatrical model with a nostalgic feeling that the "good old days are back again". But to fully appreciate the business impact of the dueling monsters this past weekend, one must take the SVOD/OTT side of the D/D release into account.
Cinelytic is able to provide these critical insights into the economics of a traditional theatrical release and direct to SVOD/OTT release. We utilized our AI driven intelligence platform to forecast the traditional window revenues of Godzilla vs. Kong ("GvK") complimented with our OTT demand data to detail how well the title did digitally to understand the economics of the picture. After all, it's not about attention grabbing headlines, it's about the interpreting the relevant data.
Is theatrical back!?:
We took into account the 19 attributes that the Cinelytic platform requires to run a full revenue waterfall including budget, genre, key talent, release strategy and IP value. The system predicted domestic box office of US$86m in the median revenue forecast – the outcome with the highest probability. See our forecast summary below:

Based on the US$32m opening weekend GvK is on track to achieve our base case forecast, which is very impressive under the current restrained theatre environment.
We iterated on the model and ran the film as a pre COVID release scenario and the system predicted a median domestic box office forecast of US$220m – of course these revenues are unachievable in the current Covid environment. More importantly, our summary below shows a projected ROI of 76.2% for producer/financier Legendary Entertainment in this pre-Covid scenario.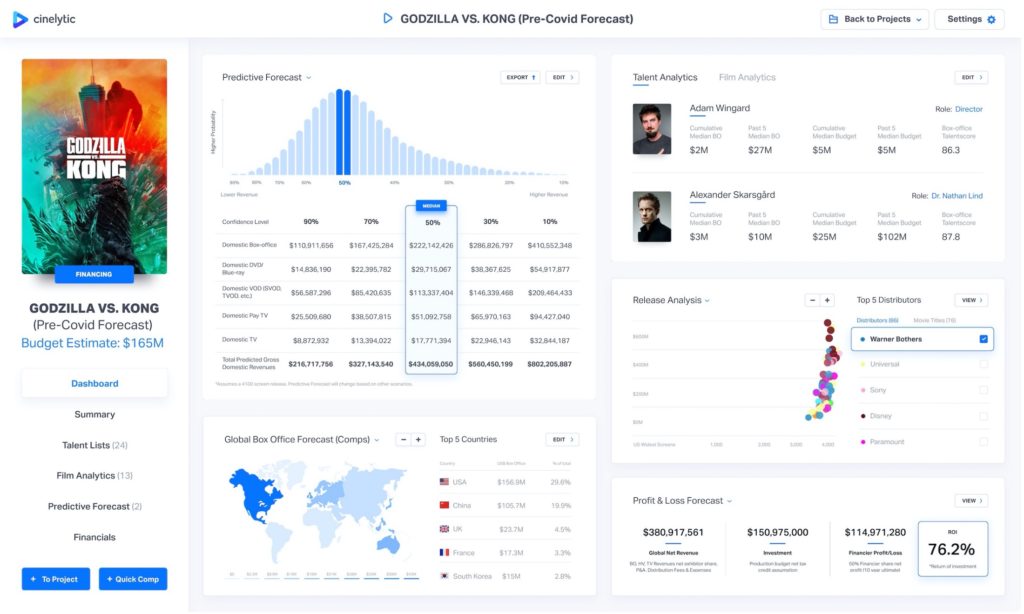 Yet in this current release environment, the ROI impact is significantly less. To make up that difference, we look to the impact of the D/D release via OTT.
Streaming even stronger!?:
HBO Max announced their 2021 Day and Date strategy at the end of last year and was criticized by the theatre operators and parts of the creative industry. Traditionally there is a belief that film distribution is a zero sum game: if a film gets released on OTT the theatrical revenues will suffer and vice versa. This view means that the pie has a certain size and participants need to fight for their share. There is an alternate view that centers around enlarging the pie by offering the consumer the choice of how to watch a film. As GvK signals the possible change in consuming environment with Covid cases dropping and vaccines become more prevalent, now is a great time to address which viewpoint is correct: zero sum gain or growing the audience pie?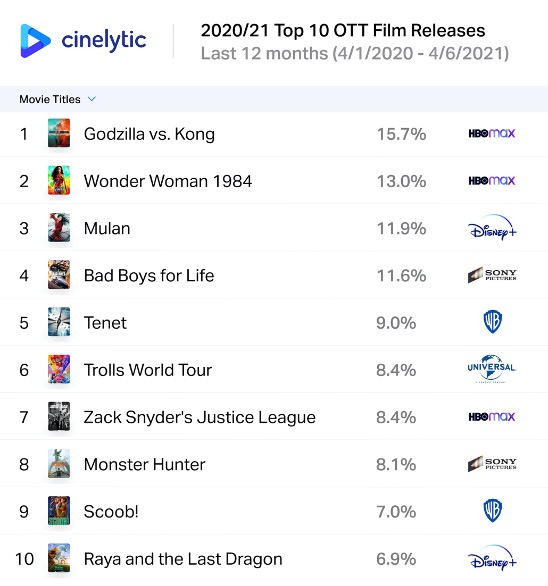 As a first step to understanding how films can enlarge the pie, we looked at OTT consumption for the first seven days of release for titles released over the past twelve months. Cinelytic's exclusive OTT data tracks 100 million global transaction daily to assess content demand for titles across all streaming platforms. The chart above shows GvK opening week as a clear and strong #1 digital release over the last 12 months. What one notices as well are four other WB titles that eschewed traditional releases and attempted hybrid release strategies. With a 15.7% top ten market share along with a strong theatrical opening weekend, one can see that there is room and appetite for the consumer in both theaters and at home via SVOD. WW84 followed the same strategy albeit with fewer theaters during the recent surge. MULAN was exclusive on OTT, while BAD BOYS FOR LIFE released theatrically in January 2020 and has lived in a strong position on VOD ever since. All to say that one can see that there is room in this environment for various release windowing strategies.
As a second step, we analyzed how GvK performed in comparison to the first seven release days of relevant comps including TENET, MULAN, WW84 and COMING 2 AMERICA.
In order to track and compare like for like performance in the cleanest way, we measured the daily market share per title / per territory for the initial seven days of release. Market share for any listed title represents the transactions that the title generated on a specific day against the total number of transactions for the day for all daily film transactions in that territory. This way we are able to establish overall strength/popularity of a title at launch and track how well demand keeps up during the first days of release.
Looking at the chart below, GvK dominated its peers with 32.9% overall market share on Day 1 and continued to do so through the first seven days, culminating with a 17.8% market share on Day 7. Based on our data GvK became HBO Max's strongest release to date. Recall that this is in a release universe of 3,100 theaters, the largest release in COVID times, as well as theatrically in approximately 38 international territories.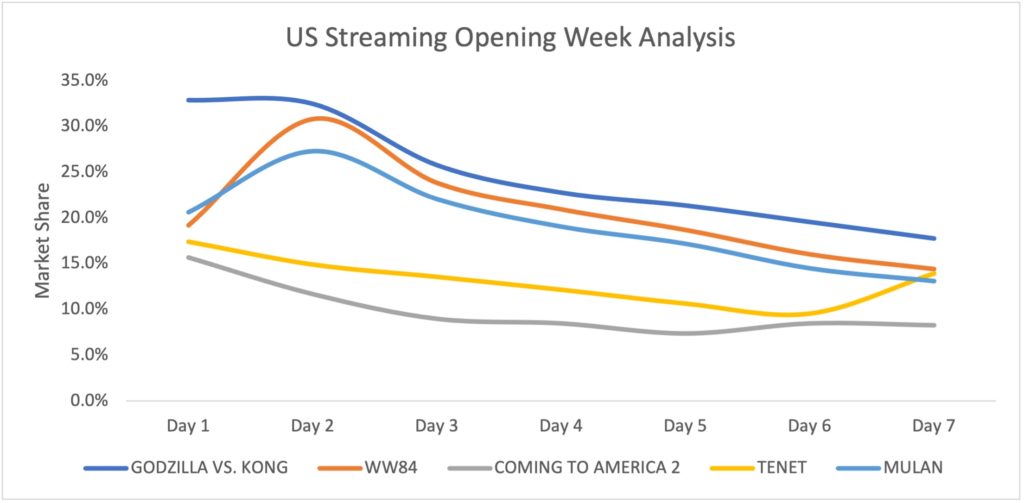 Our OTT data shows that GvK drove audiences to the film and HBOMax. We will have to see over following months if this translates to new subscribers and whether they stay with the service. WW84 is estimated to have increased HBO Max activated subscribers by 4.6m with its SVOD release. Cinelytic predicts that the impact of the GvK SVOD release to increase activated subscribers to the service by 6.0m. With a price of US$14.99/month, even retaining 60% of those subscribers through the balance of the year would net the studio US$486m. This revenue stream can more than make up for the lost revenue in the reduced COVID theatrical release. With all 2021 releases following this D/D strategy (including THE SUICIDE SQUAD, SPACE JAM and DUNE) hopefully the subscriber impact is both positive and accretive.
Not a zero sum game:
Putting the various pieces together provides a more complete picture and understanding as to why Warner Media's day and date strategy is actually increasing the total audience by providing consumers different choices of how to watch the content. What the strategy allows the studio to do is capture viewers in their preferred viewing environment whether in theaters or at home on SVOD It allows studios, financiers and producers to capture all of your consumers in all of their viewing windows as early and quickly as possible. An additional benefit is that it also allows for a reduction of advertising spend for later windows as the promotional effort compresses to fit this new normal of distribution reality.
Our analysis also showed that the studio's D/D strategy might generate similar or even higher revenues through the combined theatrical, SVOD subscribers and international VOD revenues compared to the classic pre-Covid release model.
None of this presumes a permanent change because of what one film can generate during this phase of the pandemic. What the data does indicate is that Warner Media maximized GvK's potential by generating revenues in traditional windows complimented by an HBO Max release which helped propel their service. While the studio might shift back to a shortened theatrical window strategy post pandemic a Day and Date release strategy is working well in the current environment and might also continue to do so in the future.
With our OTT demand data and AI-driven intelligence platform, Cinelytic is here to support this type of critical thinking and out of the box decision making.
Get in touch today to learn how Cinelytic can future proof your decisions.